There are few cozier ways to start your morning than by curling up next to a fireplace with a hot cup of coffee and a book or, like, Netflix, if that's more your speed. But what if you live in an apartment or a home that doesn't have a fireplace? Well, enter this modern AF fireplace coffee table, called the Kaffee. This fireplace coffee table is available on Kickstarter from Wisconsin-based company Northern Elements, and it's straight out of a Scandinavian snow palace or something. The coffee table basically has a built-in fire pit, fueled by bio-ethanol, a type of renewable fuel that comes from plant byproducts. (Ethanol is another word for alcohol, though there is a clear warning on the Northern Elements website that booze is not appropriate fuel: "for god's sake don't pour any other kind of alcohol in here this is why we cant [sic] have nice things.")
But the benefit of using bio-ethanol is that you don't need to install any gas lines to use it, and the flame won't smoke—unless you're in a desperately tiny apartment, in which case, what are you doing buying a fireplace coffee table in the first place, because don't you need space for, like, a kitchen table or a bed or a couch? It's also ostensibly landlord-friendly, since it is a free-standing piece of furniture that just happens to light on fire when you hit a button.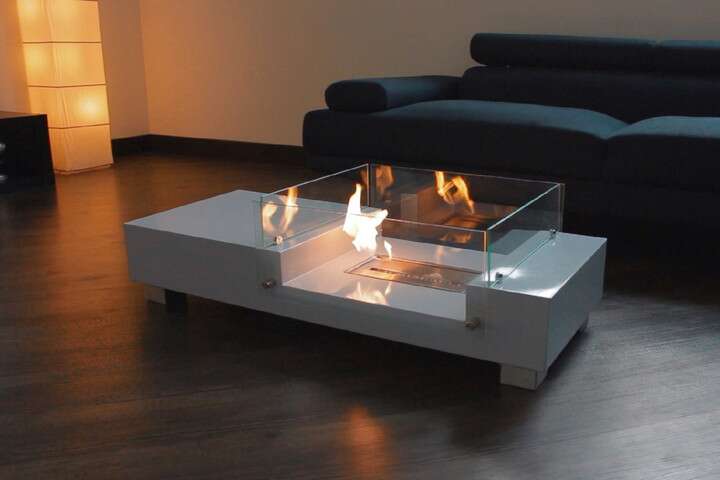 The Milwaukee-based founder of Northern Elements and designer of the Kaffee Bryant Randall was inspired to make a fireplace coffee table, "After years of running a virtual fireplace on a computer screen in my downtown apartment," according to the Kickstarter. Now, to be fair, this isn't the first fireplace coffee table on the market—and there's actually plenty of instructions for DIY fireplace coffee tables if you Google deep enough. (This category of furniture is called "elemental," if you're into it and would like to fall down a very weird Pinterest hole.)
What makes the Kaffee special is its lower price point. "I had hoped to empower an urban dwelling millennial, like myself," explains Randall on the Kickstarter. "A young professional still establishing their career, a bit of disposable income above and beyond the IKEA entry level furniture, but not quite ready to justify spending $600 or more on boutique retail furniture that simply [isn't] very remarkable." Well, this coffee table is certainly remarkable, and it's relatively inexpensive, given that, you know, it also lights on fire. And it is, in fact, real fire that gets hot and everything.
You can purchase a Kaffee on Kickstarter now, in one of three glossy colors, for $299. It'll be ready to ship in about nine weeks, which is basically going to be prime time for hibernation and cuffing season.