It takes a special kind of artist to recognize a hunk of stone that looks like pork belly, and fortunately for art lovers and bacon aficionados alike, that human existed. Over 370 years ago, during the Qing Dynasty, a Chinese artist saw a piece of jasper that sort of looked like dongpo rou, or braised pork belly, then made the wise decision to carve, dye, and polish it until it really looked like a layered piece of pork belly—skin, fat, and all. And for the first time ever, the #PricelessPorkBelly is in the United States. Starting today, you can see the meat-shaped stone on a golden stand in all its glory at the Asian Art Museum in San Francisco, CA, and it is beautiful. Anthony Bourdain apparently once called it, "the pork of my dreams."
This is far from the first time that breakfast meat has inspired fine art, though. Through the centuries, artists from across the world have drawn inspiration from the first meal of the day, capturing the meal and its foods in paintings and sculptures. And while few pieces achieve the photorealism of this Chinese meat-shaped stone, all these works of art are wonderful if you're a breakfast devotee. Breakfast art is a surprisingly rich, albeit, underappreciated genre, so here five other pieces if you're looking for a taste.
Ralph Goings, "Coffee and Donut" (2005)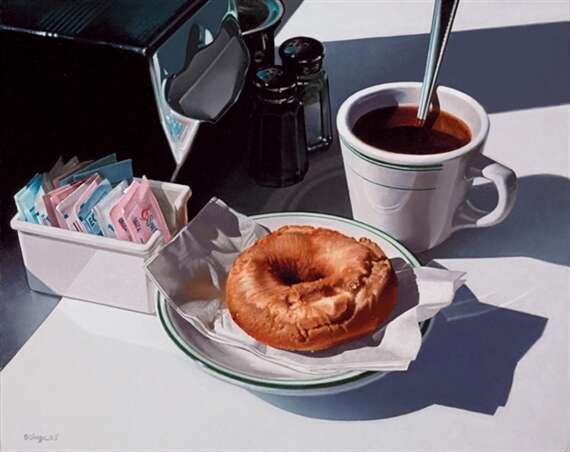 Ralph Goings is a contemporary photorealistic painter who's know for his diner still lifes, like this one of coffee and doughnuts.
Claes Oldenburg, "Giant Loaf of Raisin Bread Sliced" (1966-7)
A modern artist, Claes Oldenburg is known for his oversized sculptures of food objects made from foam and vinyl coverings, and one of his most breakfast-y
Johannes Vermeer, "The Milkmaid" (1657-8)
Painted in 1657 or 1658 by Dutch master Johannes Vermeer, this painting depicts a woman pouring milk in the morning.
Henri Matisse, "Breakfast" (1920)
This painting by Henri Matisse, currently held at the Philadelphia Museum of Art, depicts 19-year old Antoinette Arnoux in a hotel room in the south of France, staring off in the distance while her breakfast sits on the table next to her.
Mark McGowan, "Chips and Beans" (2003)
Breakfast can inspire performance art, too. In 2003, British artist Mark McGowan sat in a vat of baked beans and tomato sauce with a crown of sausages for twelve days to defend and "celebrate English culture and food."