Every weekend, as hordes of hungry diners wait in line for brunch, Extra Crispy will hit the pavement, visiting a neighborhood's most popular spots and talking to people who love the meal as much as we do. For the first installment of Street Meet, Extra Crispy went to Bushwick, Brooklyn.
Gabriel Molton (Left) and Zachary Kiernan at Roberta's
Extra Crispy: What did you do last night?
Zachary Kiernan: I went out on the Lower East Side. Drank a lot of Miller High Lifes. And one of our buddies got arrested.
How did he get arrested?
Kiernan: He was acting like an asshole on the street. I don't think we want to get too specific. [Laughs]
Fair enough. Is your dog a brunch companion often?
Kiernan: Oh, yeah.
Gabriel Molton: But if we have him outside for too long, he gets kind of freaked out in Bushwick, so he'll start crying and stuff.
What do you like to eat after having sex in the morning?
Molton: Love the question. There's nothing like a good bagel with cream cheese and lox and some Sriracha on there.
Kiernan: What was the question?
Molton: What do you like to eat after having sex in the morning? When your girlfriend lets you have sex with her.
Kiernan: I don't know. I got nothing. Maybe some nice yogurt. Keep it light.
Paige Nowrouzi at Roberta's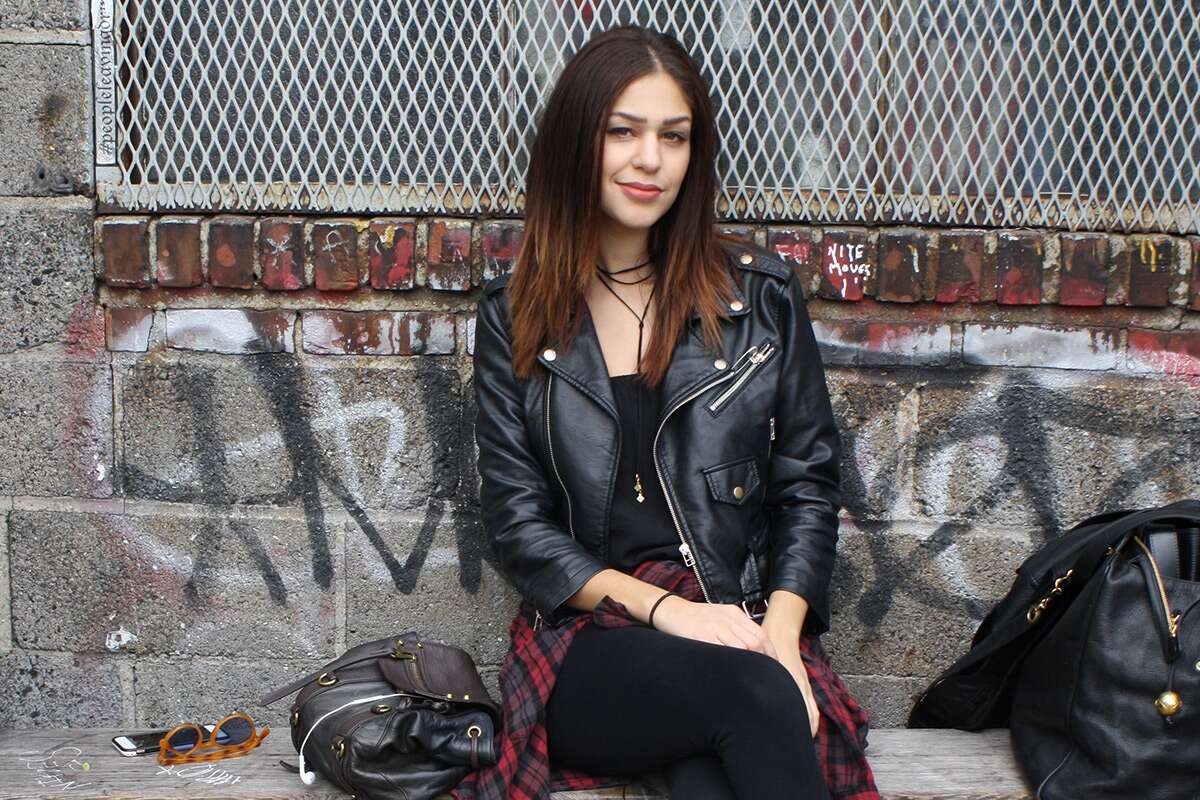 Extra Crispy: Do you come to Roberta's for brunch a lot?
Paige Nowrouzi: This is actually maybe my second time? I usually order take-out or they deliver to my house, which is down the street. So it's more convenient than waiting.
There you go. Is there anything you like getting?
My go-to pizzas are the Margarita and the Bee Sting. Those are my two favorite.
What did you do last night?
I have a friend that's in town. She's from LA visiting, so we just went to Williamsburg, bar-hopped. We had plans to come here because she loves Roberta's. It's like the best. Honestly, they don't have that pizza option in LA, like the wood-fire, brick-stove pizza.
What do you usually like to eat after a one-night-stand?
Ooh, that's a really good question. It's actually pizza. Pizza with eggs on top. I usually used to come here. Pizza. Pizza's like my go-to for everything.
Julian Rome, 26, Emmy Gorney, 23, Ashley Gott, 23, and Mischa Aleta, 23, at 983 Bushwick's Living Room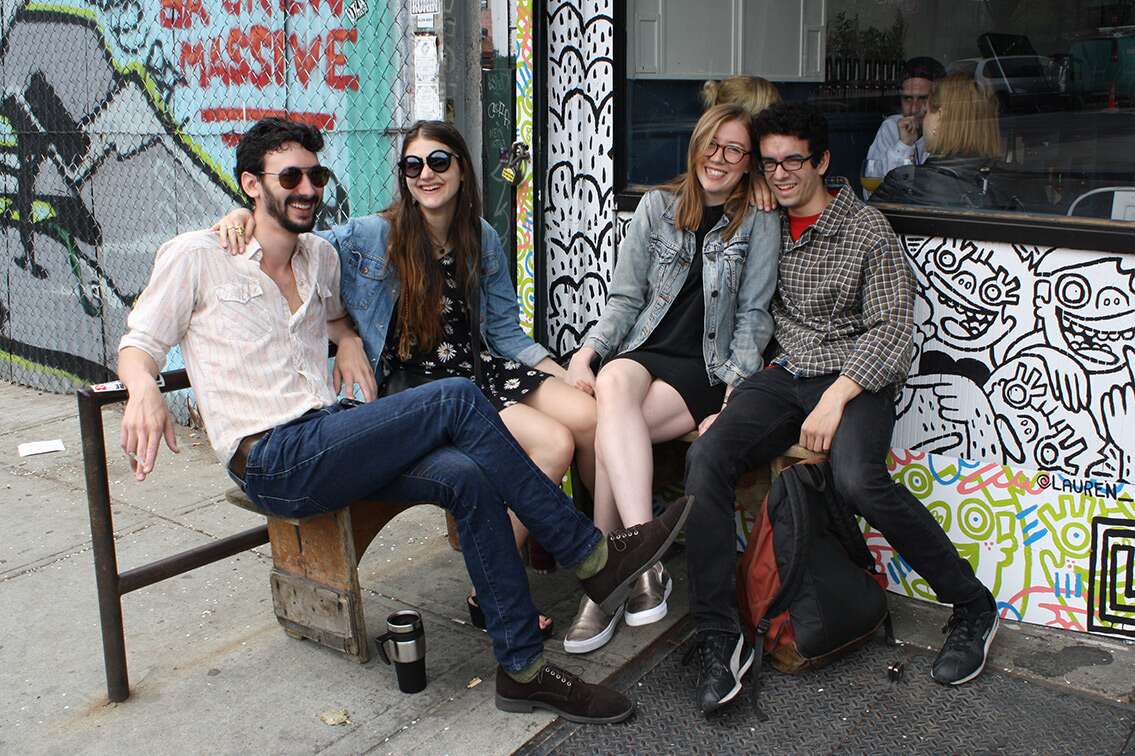 Extra Cripsy: How long have you guys been waiting for brunch?
Mischa Aleta: I was here first. [Everyone laughs]
Julian Rome: That's what they all say.
Aleta: I was here for maybe 20 minutes, I guess.
Emmy Gorney: Yeah, I've been here for, like, five.
Ashley Gott: I was the last one here.
Aleta: I staked it out.
Do you guys come here a lot?
Gorney: Not really.
Aleta: It's my first time here, actually.
Gott: I've been here a couple of times.
Rome: I've attempted to come here before.
How do you guys know each other?
Aleta: We've been friends for a very long time.
Gorney: School.
Gott: Friends of friends.
Gorney: High school.
Rome: [Pointing at himself] Boyfriend.
Do you guys live around the neighborhood?
[Everyone nods]
What do you guys like to eat after a one-night stand?
Gott: Pizza!
Emmy: Bagel. Like, greasiest bagel.
Gott: Or a bagel.
Rome: Breakfast burrito.
Aleta: Yeah, bagel. I don't know. Something quick, I guess. Like, oatmeal? Microwave oatmeal?
So you can eat it and peace?
Aleta: Just like, make it really quick and…
Rome: Cry into your bowl of oatmeal. "It didn't go as planned."
Aleta: "I don't know what this is. I don't know what I'm doing."
Rome: Can we all agree on coffee, though?
Aleta: Definitely will need the coffee.
Patrick Warner, 26 (Left), and Benjamin Caswell, 24, at Forrest Point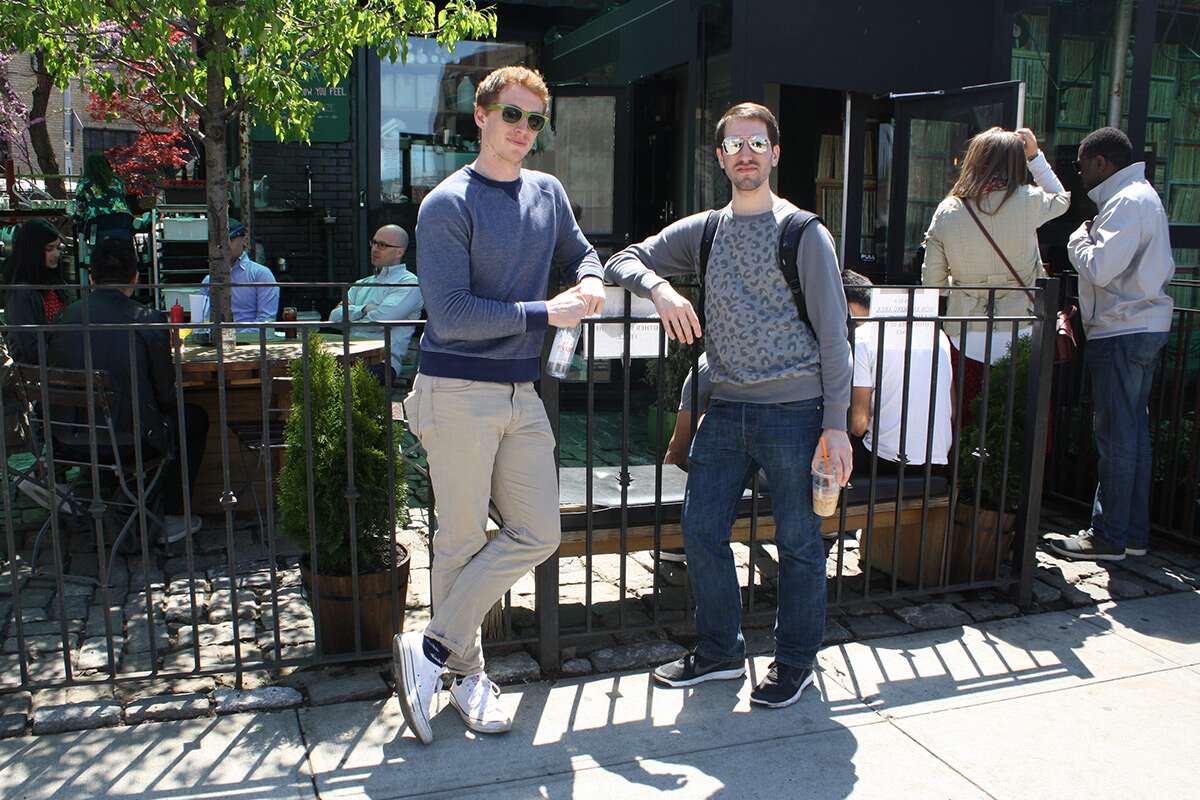 Extra Crispy: What'd you guys do last night?
Patrick Warner: I had to take care of a drunk girl that I've been seeing, so that was fun.
So you really need to drink this morning.
Warner: I do. I absolutely do. I yabba dabba do.
What do you guys like to eat after a one night stand or morning sex?
Warner: That's a good one. Let me ponder this for just a moment.
No worries. Take your time. You've got a wait ahead of you.
Warner: That's true. After a one night stand or morning sex… Is said person gone? Or there?
Benjamin Caswell: Eating with them?
Either is fair game.
Warner: Either? I'll make sure it's something quick at the house and then, if it's someone I'm not really connected to, I'll say, "Oh, I have to go do this or that," so they'll leave. But I'll make them breakfast, like eggs or something like that. But if they're not there, I'll go to brunch with my friends and have a big smorgasbord and drink more, I guess.
Caswell: Yeah, I would say something meaty with protein. The sugary brunch dishes? I can't eat in the morning, no matter the morning. But you know what I mean when you feel like…
Warner: Nothing too rich, but a burger that soaks up all of the booze from the night before is perfect.
Caswell: Also that makes you feel like the fucking man. Like, I just did this shit amazingly, and now I'm going to reward myself with a burger. It's not the same as rewarding yourself with waffles, which are great, but…
Warner: I mean, I do love waffles. But a burger? Definitely. I'd say burger.
Caswell: Yeah, burger.
So what are you going to eat this morning?
Caswell: Based off of what I just told you, I can't say I'm going to get a burger.
Warner: I'm on vacation and I haven't worked out in a week, so I need something as light as possible so I don't feel like shit about myself.
Caswell: I had a one night stand last night. With myself! So I can get a burger if I want.
Schuyler Biellama, 26 (Left), and Michelle Palazzo, 25, at Cafe Ghia
Extra Crispy: Do you come here often?
Michelle Palazzo: Yeah.
Do you live around here?
Yeah.
Are you two together?
No.
Just friends?
Just friends.
Do the two of you go to brunch together often?
No, we never brunch. We don't usually wake up this early.
What did you do last night?
Drank a lot.
So do you need brunch?
I don't need brunch. I want brunch. I never have off on a Sunday, so I'm living the dream right now.
Jonas Bergholm, 32 (Left), and Aice P., 28, at Roberta's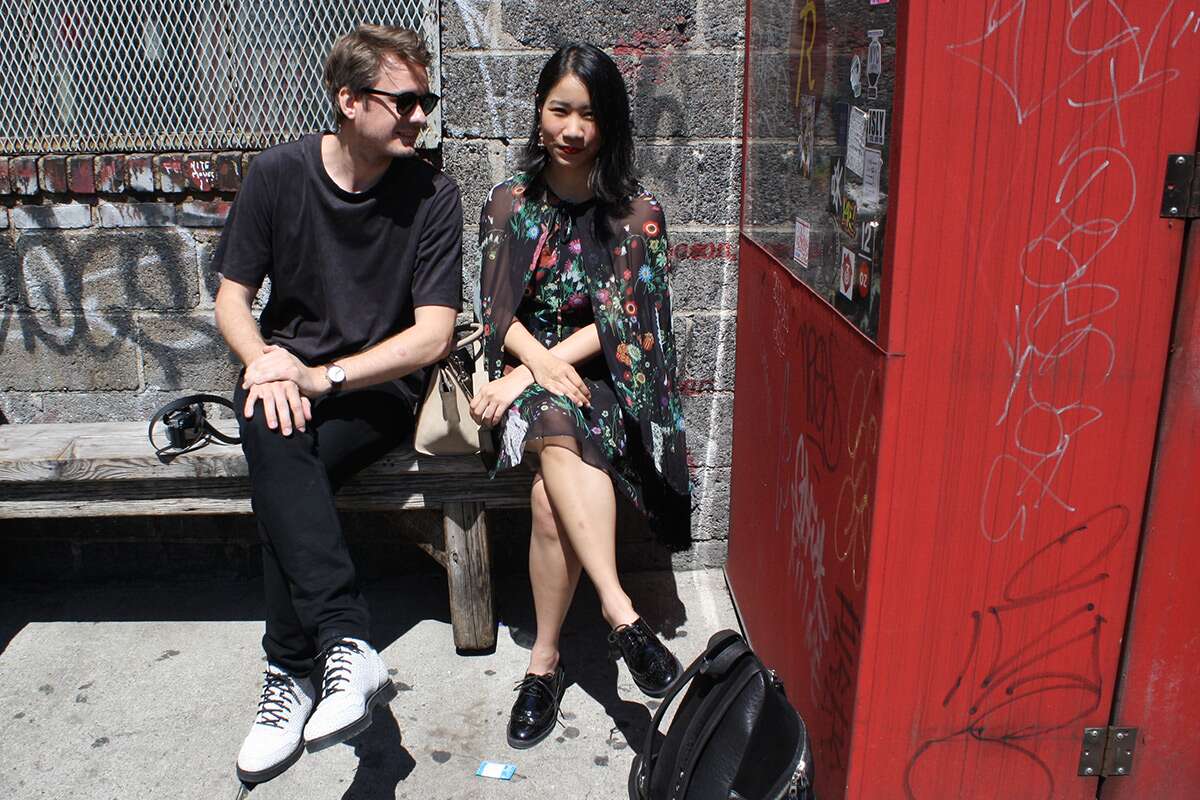 Extra Crispy: Are you from the neighborhood?
Aice P.: No. We're from Sweden.
What are you doing here?
Aice: Well, I'm a scholar at Harvard. I'm staying for six months, and he's visiting me.
Jonas Bergholm: For a week. So we have no plans in New York. We went here, and we will see what happens.
What do you think of American brunch and the whole phenomenon around it?
Aice: I think it's cool. Part of a culture, right? Because eating is culture. And, well, it tells a lot about a group of people here as well. Because in Asia, people eat very, very heavy breakfast, like the whole meal that people from other parts of the world eat for dinner, people in Asia have that for breakfast. But if you go to Japan or Scandinavia… What do they eat in Scandinavia?
Bergholm: Breakfast, we eat like here, like cereal and bread and yogurt.
Aice: In Scandinavia, we have yogurt or something very light. But in Asia, Thailand, for example, people eat a real, whole meal for breakfast. And here it's different, too. So it's interesting to see how people from different cultures eat differently.
What are you studying at Harvard?
Aice: Well, I'm not studying at Harvard. I'm doing a PhD. I'm an associate fellow at Harvard now, so I'm giving some lectures. It's not about brunch. [Laughs]
But it's really interesting! I have one last question. What do you like to eat after a one-night stand?
Aice: With a guy? Or by myself?
Either.
Aice: By myself? I would like something intense and sweet. Cakes, brownies. With a guy, probably some easy breakfast, maybe?
Get him out the door?
Aice: Yeah. Sandwich. But usually it doesn't work that way.
Julia Heffernan, 26 (Left), and Jimmy Heffernan, 25 (Right), at Forrest Point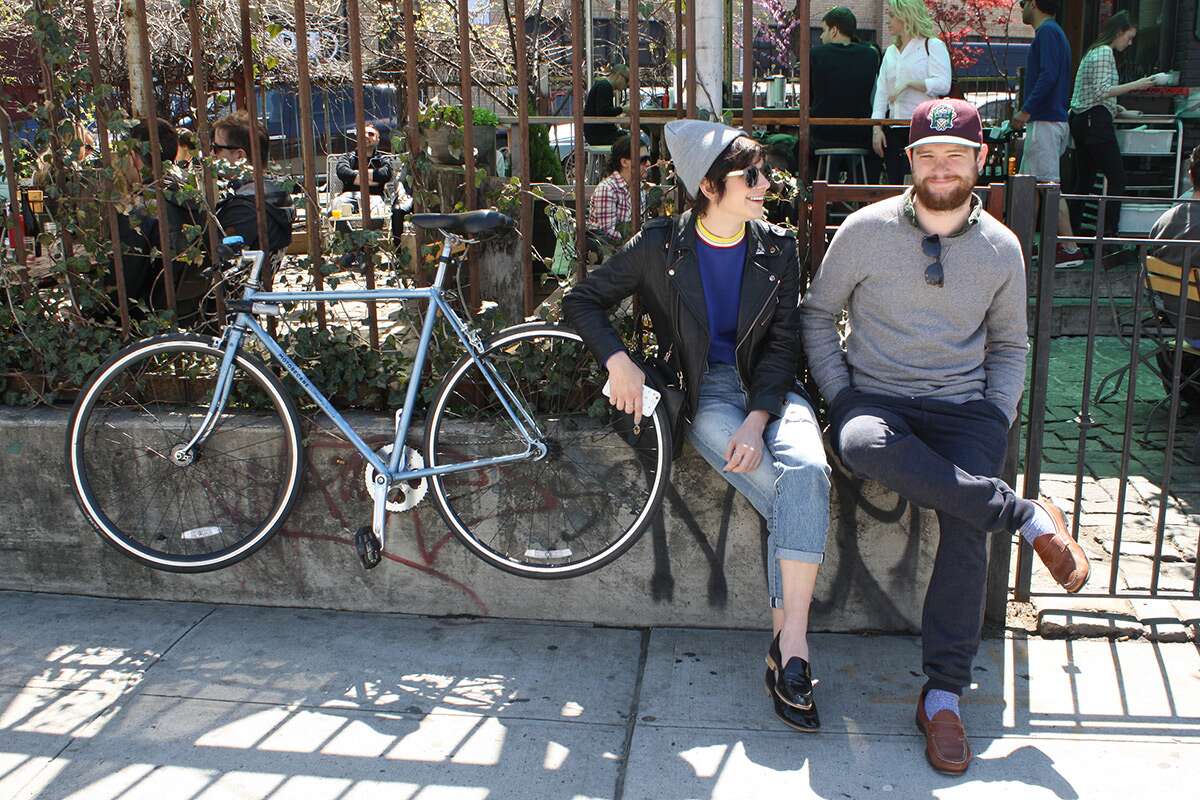 Extra Crispy: Is there anything you're looking forward to eating?
Julia Heffernan: They have my favorite hamburger. So I'm really excited about that.
Jimmy Heffernan: That's what I'm going to eat, also.

What did you guys do last night?
Jimmy: I actually didn't do anything.
Julia: I had a birthday party that I went to. Not mine. Just someone else's.

Do you feel like you need brunch this morning?
Julia: I actually woke up feeling really good, took a walk. Feeling refreshed. It's nice out.

What do you like to eat for brunch after a one-night stand?
Julia: I like to order Seamless.
Jimmy: I don't want to go out to a big brunch. I'll get a bacon, egg, and cheese at a bodega.
Julia: And just live in my shame. Alone.
Asha Kuziwa, 21, at Cafe Ghia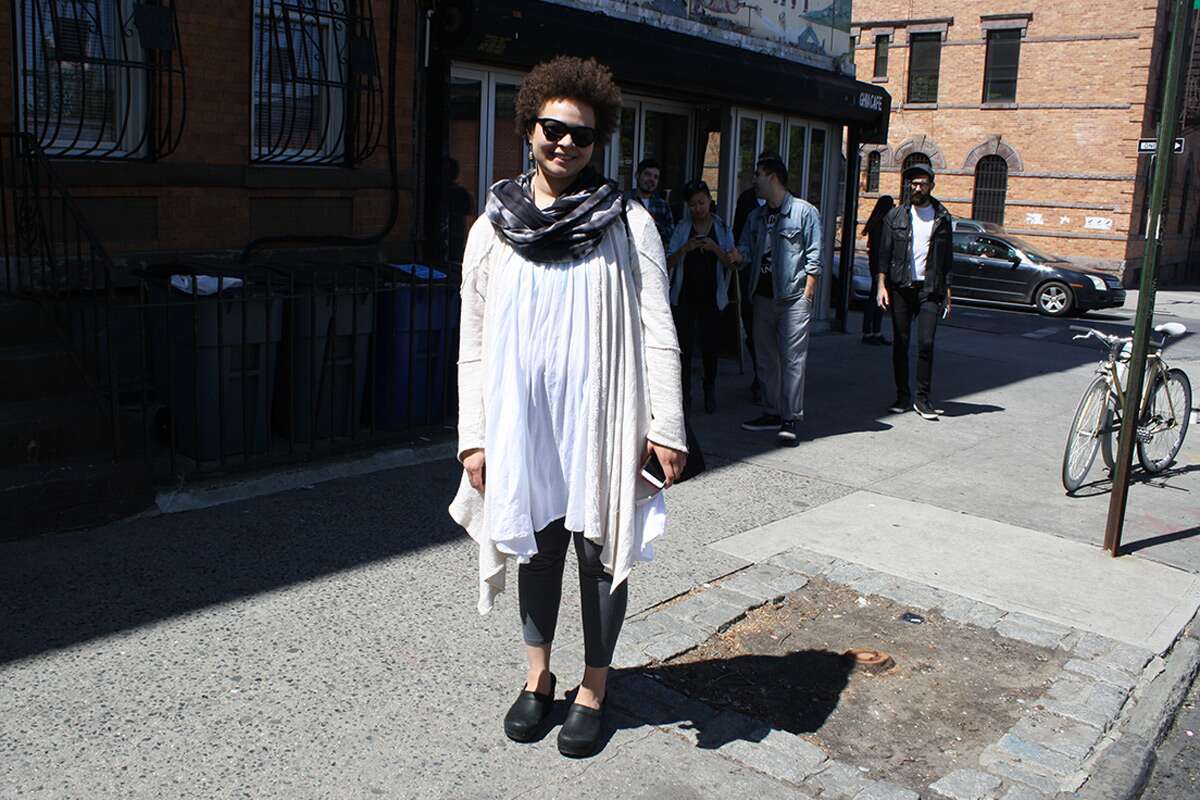 Extra Crispy: What's the longest you've waited for brunch?
Asha Kuziwa: I'd say half an hour is my limit, and then I give up.

That's not too bad, though.
I'm very impatient when it comes to brunch foods.

What did you do last night?
I watched a movie with someone. Nothing too wild.

Was it a special someone or just a friend?
It's complicated.

What do you like to eat after having sex in the morning?
Greasy food.

Anything in particular?
Like, hash browns and eggs that are cooked in bacon grease. Like, I've never actually had that, but that just sounds really ideal to me. Home fries and eggs and bacon.
Cindy Zaglin, 66 (Left), and Zachary Buckner, 25 (Right), at Roberta's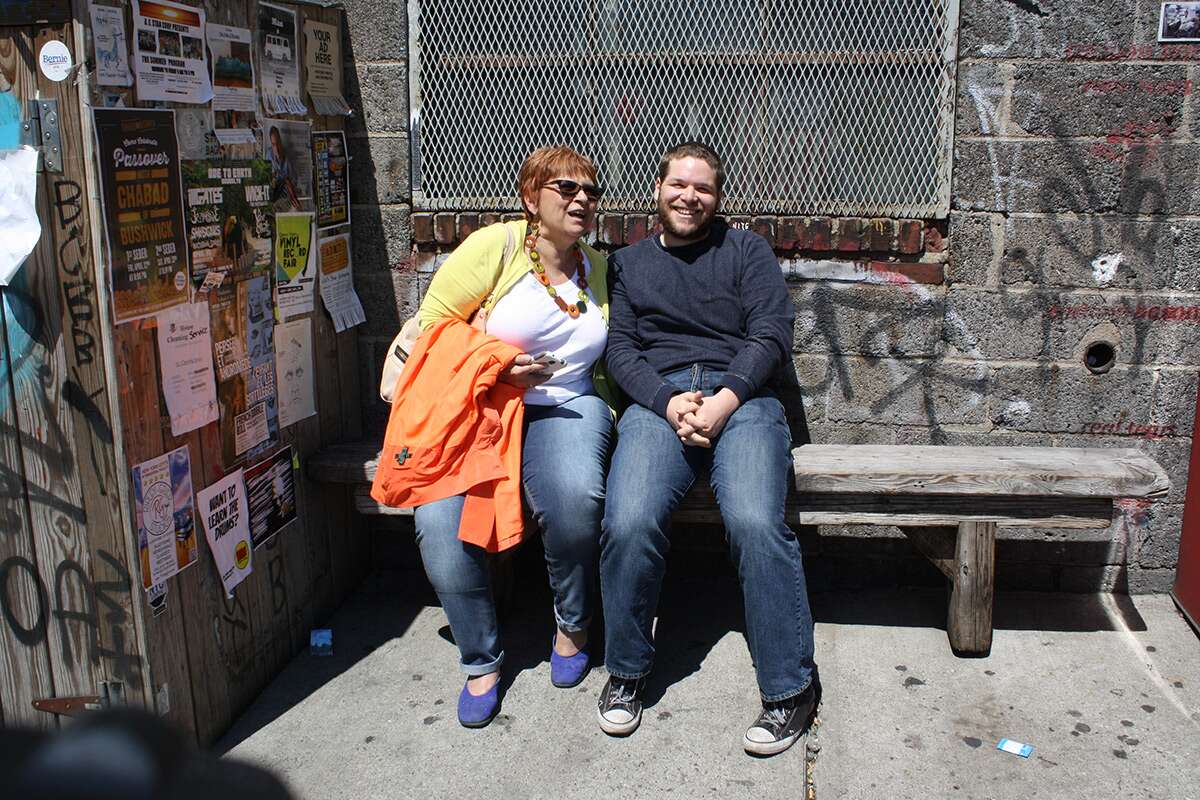 Extra Crispy: How did you end up at Roberta's?
Cindy Zaglin: Because I've heard about it for a long time, and I heard the food was really good and it was kind of a cool place to go, which I've kind of grown out of.
Zachary Buckner: You're still cool.
Zaglin: I am cool. I'm old, but I'm cool.

What do you usually have for brunch if you're going to have it?
Zaglin: Well, I mean, I'm a Brooklyn Jewish girl, so I have a bagel and lox. I'm not like a pancake and waffle girl. So omelet, bagel, and lox. Someplace like that. And there are places in my neighborhood that are also very long lines, really crazy like Miriam's. But this is supposed to be really, very, very, very good, and I love pizza. That's really why I'm here. That and to see him.
Buckner: I usually go the lunch side, I would say. I don't usually go the breakfast route. I go around Bed-Stuy, this place Borough...
Zaglin: Oh, you sent us there! Henry and I went there. That was good.
Buckner: It's a low-key place. Never too crowded.
Zaglin: Oh, I have a text! Wait, wait, wait, wait, wait. We're being called!