The irksome thing about most seasonal pumpkin dishes is that they rarely contain much actual pumpkin as an ingredient. This goes extra-much for pumpkin drinks, like the omnipresent pumpkin spice latte. Honestly, I was feeling a little cheated—not to mention super-wasteful. This vegan pumpkin spice latte recipe uses every part of the pumpkin, including the seeds (which become a surprisingly satisfying pumpkin seed milk)' the flesh (which adds sweet heft to the brew), and the hulls (which become the cutest little serving cups ever). It even comes with a bonus snack in the form of an ersatz spent-seed granola.
It is entirely possible to bypass all the fuss, using canned pumpkin puree and raw pumpkin seeds (fun fact: the green pepitas usually sold in stores come from oilseed or Styrian pumpkins, rather than the pie-centric varieties) or nut milk so you may head straight for the cunning mini-pumpkin cups—but making this from-scratch pumpkin spice latte is a strangely satisfying way to spend an autumn afternoon. Seize the season, assemble some friends, and make a project of it. I'm not saying a little rum or whiskey should make it into the mix, but I'm not saying it shouldn't, either. Depends how seedy you want things to get. (Fist pump.)
Pumpkinception Pumpkin Spice Latte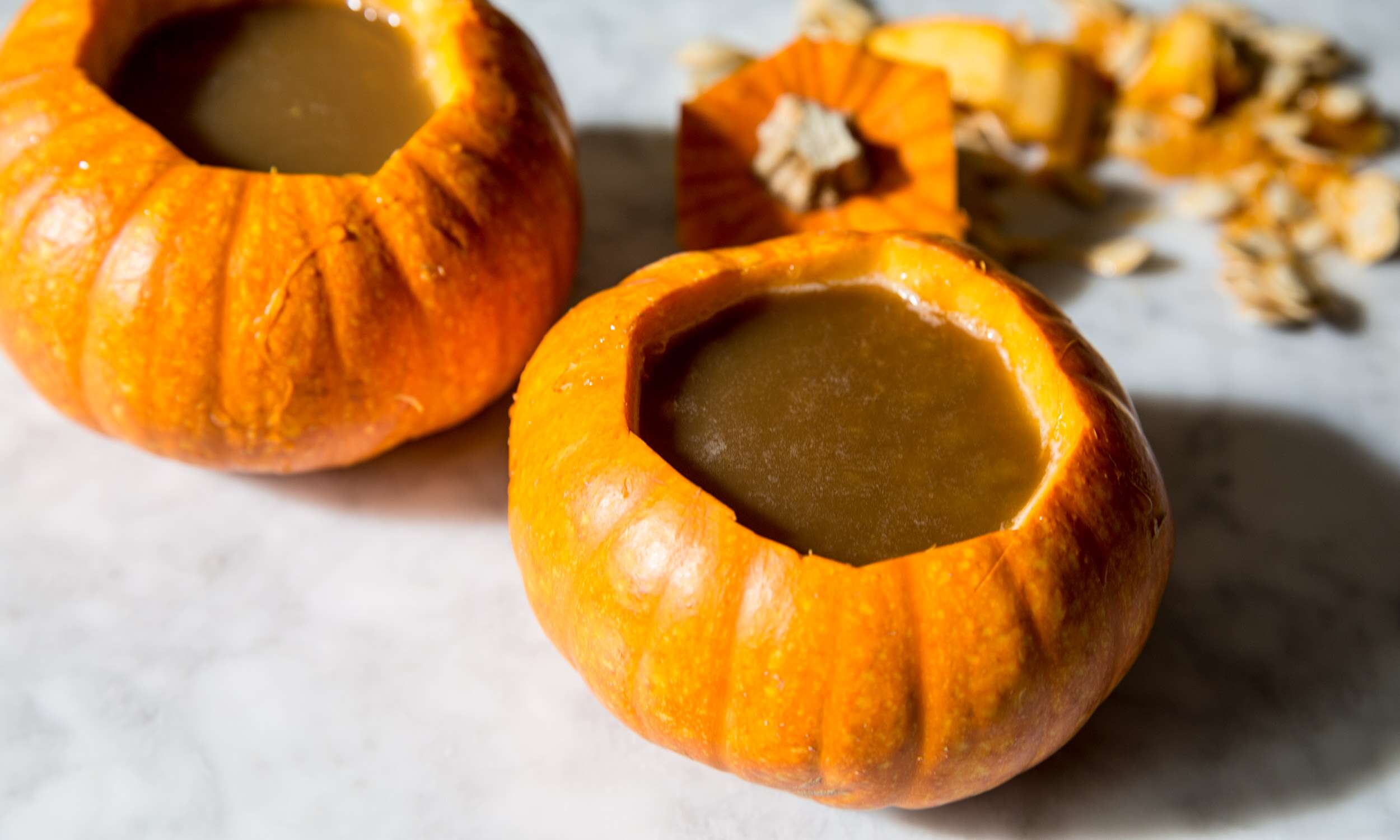 Note: The recipes below yield more pumpkin seed milk and pumpkin puree than you will use in one drink.
Ingredients
Directions
At the bottom of a mug, stir together pumpkin puree and pumpkin spice, then stir in sweetener until smooth. Add a little bit of hot coffee and stir until smooth. (Use a frother or whisk if you've got one.) Add pumpkin seed milk and stir until thoroughly incorporated, then fill with coffee, tasting as you go. Adjust sweetener and milk to taste.

If the texture isn't smooth enough due to the pumpkin puree, pour mixture through a fine mesh strainer. Top with additional pumpkin spice if desired.

For meta-pumpkin-ness, slice the tops off mini pumpkins, scoop out, and use as latte cups. To take it over the top, use a creme brulee torch to caramelize the insides of the pumpkins before pouring in the coffee.
Pumpkin Seed Milk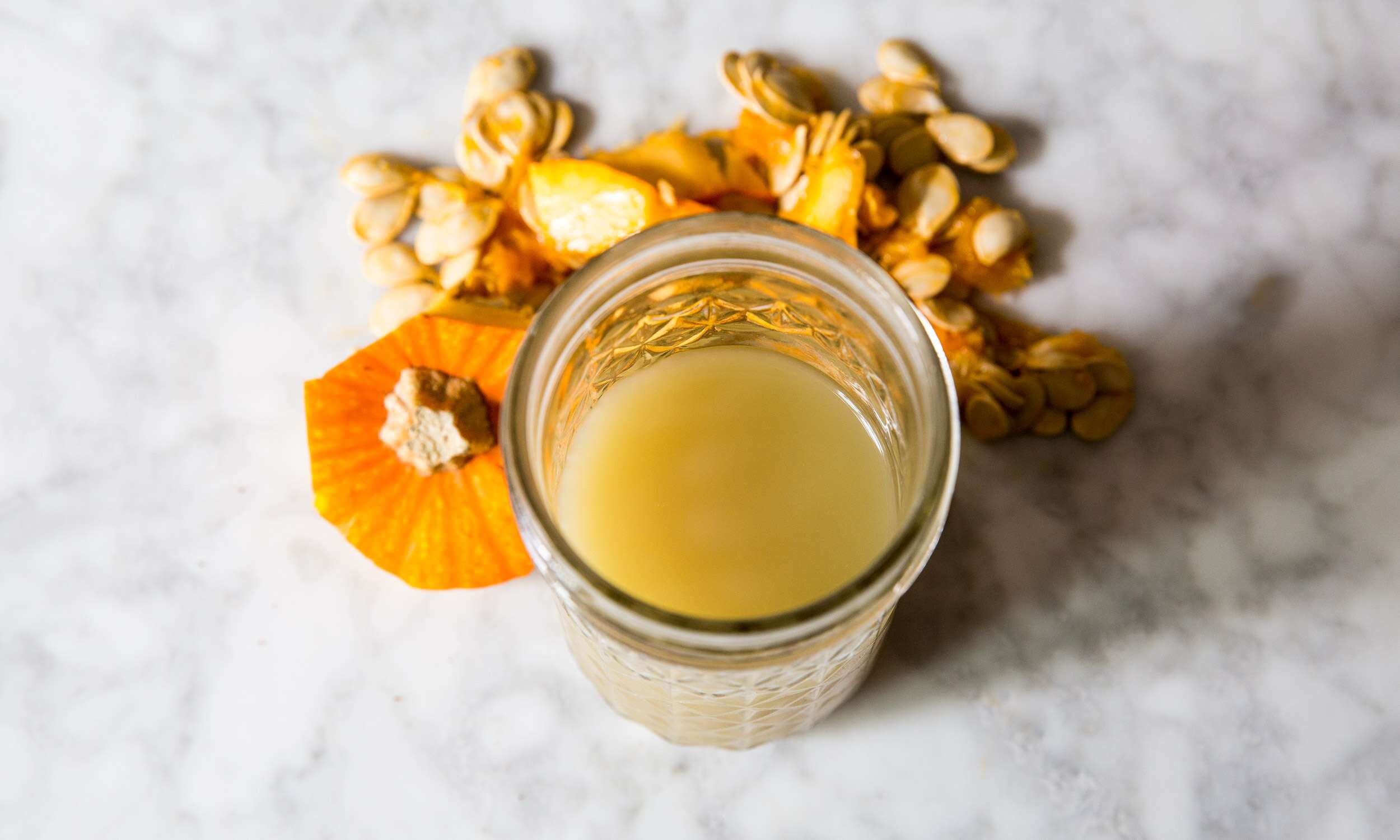 Ingredients
Directions
Cut a pumpkin in half along the widest part horizontally and scoop out the guts and seeds. Remove as much of the guts as possible and rinse the seeds in a colander. Place several paper towels on a flat surface, layer the seeds on top, place another layer of paper towels on top of that and crush the seeds lightly with a rolling pin or the back of a heavy skillet.

Add the cleaned, bruised seeds to the water in a saucepan and bring to a boil. Cook for 5 minutes, then remove from heat and cool to room temperature.

Skim out seeds and place in blender or food processor with 2 cups of the water (save the remainder for the pumpkin puree). Add sweetener and spices, and blend or process until a thick slurry is formed.

Suspend a nut milk bag or cheesecloth over a bowl and strain the liquid completely. When it stops dripping, squeeze to release as much liquid as possible. Pour it back over the seeds, strain, and squeeze until the liquid has gone through the process at least 4 times. Adjust sweetness to taste and pour into a tightly covered jar. Store refrigerated.
Bonus recipe: Take the leftover hulls and toss with salt and sesame oil. Roast on a cookie sheet until brown and crunchy for a granola-ish, no-waste snack.
Pumpkin Puree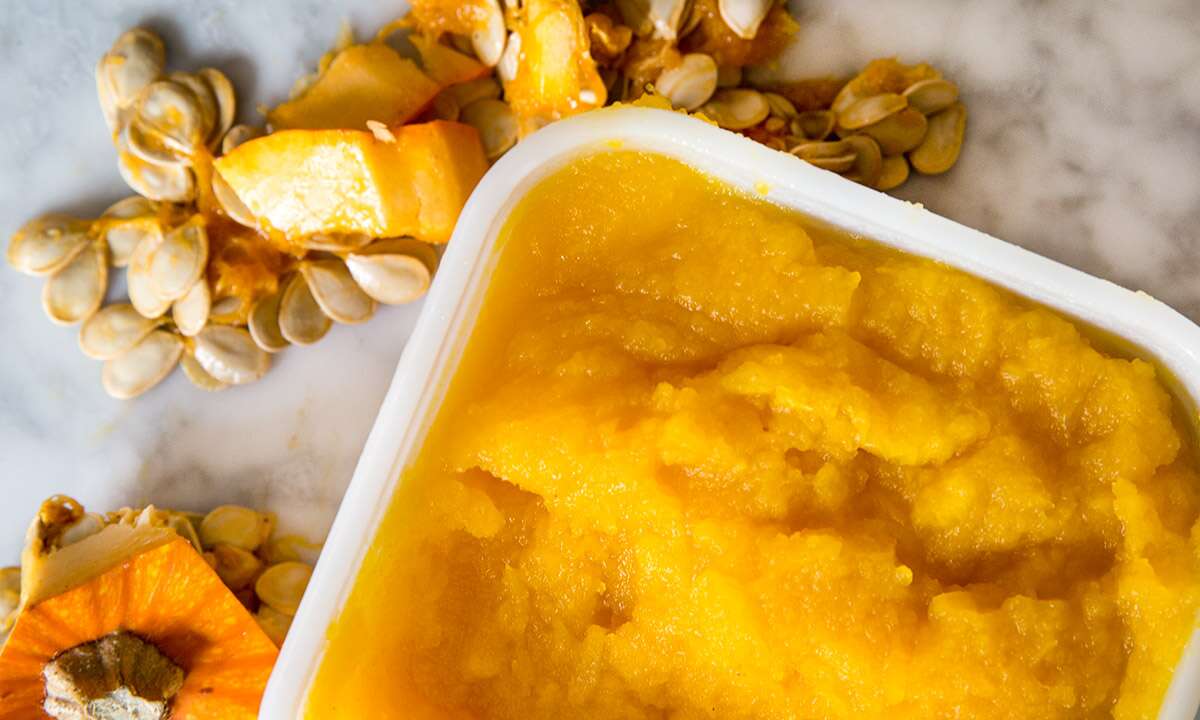 Ingredients
Directions
Heat oven to 350°. Take scooped-out halves of pumpkin from milk recipe and carefully cut out the stem and root sections. Cut each halves into quarters and place on sheet trays or directly on racks and roast until fork-tender and the skin peels off easily. Let cool.

Peel the skin from 2 sections and discard. (Save the remaining sections to add to baked goods, smoothies, or roasted as a side dish.) Chop the flesh into 1-inch cubes and place in blender or food processor. Puree, adding water as needed to smooth. Store covered and chilled.