What could be better than macaroni and cheese combined with a buttermilk biscuit? Add some bacon and you'll never look back. You can count on impressing everyone around the table with this outrageously delicious trifecta that we serve at Biscuit Head, our restaurant in Asheville, North Carolina. One bite of the mac and cheese biscuits featured in our latest cookbook, Biscuit Head: New Southern Biscuits, Breakfasts, and Brunch, and you won't be sorry. Not one bit. And you'll quickly come around to understanding why it's genius to put pasta in your biscuits.
Bonus: We've even included the recipe for our restaurant's simple, rich, and creamy homemade macaroni and cheese—a crowd pleaser, for sure. You'll find there are a few additions that make our mac extra delicious: heavy whipping cream, bacon grease, Sriracha, and, of course, a couple of leftover biscuits! Yes, you heard it here first. Biscuits in pasta, and pasta in biscuits. If you want to make vegetarian macaroni and cheese, just substitute butter for the bacon grease. It will still be amazing.
Mac and Cheese Buttermilk Biscuits
Yields: 10 large (5-ounce) biscuits
Ingredients
Directions
Cook the bacon in a skillet until crispy. Reserve the rendered fat and chop the bacon into pieces. Preheat your oven to 375°F, making sure you have one of the racks in the middle of the oven. Grease a large baking sheet (cooking spray works fine).

Sift the flours, salt, and baking powder together into a large bowl.

Snap in the butter and stir in rendered bacon fat. Very gently fold in the bacon pieces, mac 'n' cheese, buttermilk, and cheddar cheese. Be sure to incorporate the ingredients thoroughly, but be careful, as always, not to overmix the dough. Remember that a few dry spots of flour are OK and will cook out when baked.

Use a large ice cream scoop to move the dough onto the greased baking sheet. Make sure to keep the scoops of dough right next to each other on the pan.

Bake for 20 to 25 minutes or until golden brown and delicious.
Biscuit Head Mac and Cheese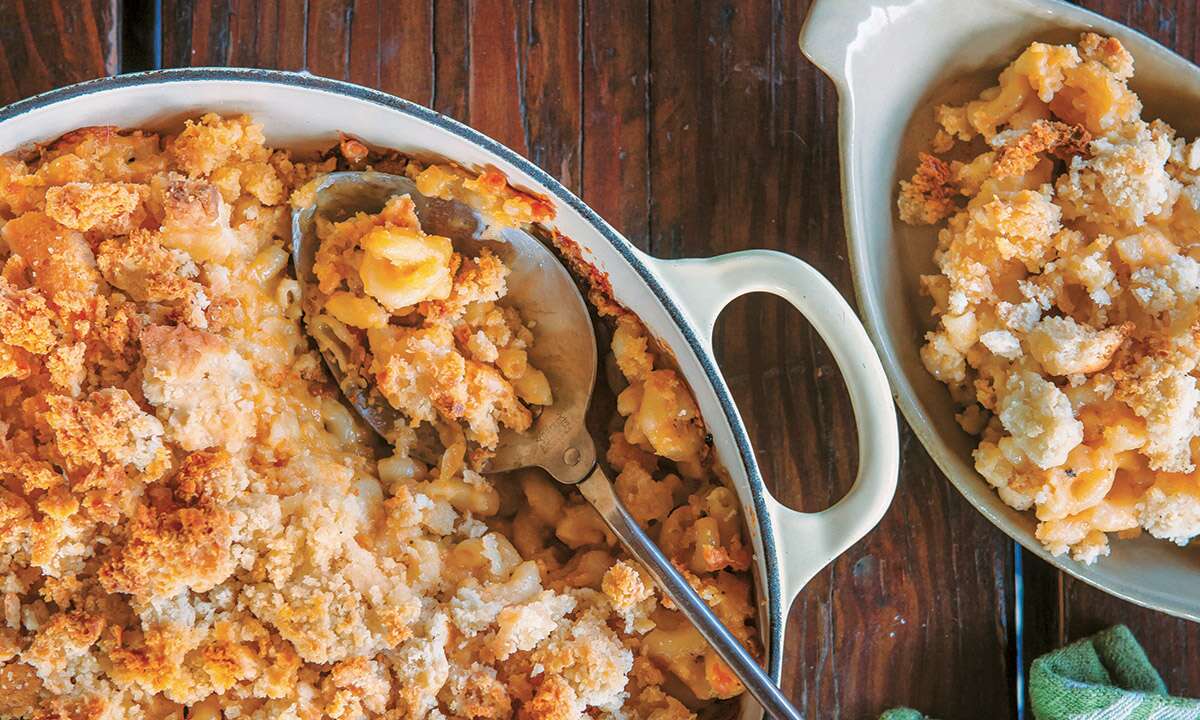 Ingredients
Directions
Preheat your oven to 400°F and grease a large casserole pan.

Boil the elbow macaroni in salted water until al dente. Drain the pasta and set aside.

Heat a medium-sized stockpot or large skillet over medium heat and add the bacon grease or butter. Stir in the flour slowly. Let this roux cook for 1 minute while stirring with a whisk. Slowly add the whole milk to this mixture while continuing to stir. Once the milk is fully incorporated with the roux, stir in the cream. This is now a béchamel, or cream sauce!

Add the salt, pepper, and Sriracha, then slowly stir in 2 cups of the shredded cheese, saving ½ cup of cheese for the topping.

When the sauce is smooth and all the cheese is melted, stir in your cooked pasta. Once everything is well mixed, pour the mac 'n' cheese into your casserole pan. Top with the crumbled biscuits and remaining ½ cup of shredded cheese and bake in the oven for 20 minutes, or until golden-brown and delicious!
Excerpted from Biscuit Head: New Southern Biscuits, Breakfasts, and Brunch by Jason and Carolyn Roy. Published with permission by Voyageur Press, an imprint of Quarto Publishing Group.