There was a period of time a couple of years ago when it seemed as though every single food blogger was obsessed with monkey bread, trying to one-up each other with their own innovative spin on it. For weeks, Rachel Hollis, creator of The Chic Site and author of Upscale Downhome wondered how to make monkey bread that was both different and delicious. "And then it hit me in the middle of the night—seriously, Breakfast Monkey Bread!" she said. "What if we stuffed biscuits with eggs and potatoes and cheese and breakfast meat and we served it with country gravy to dip? Just further proof that my best ideas come to me in my sleep."
Breakfast Monkey Bread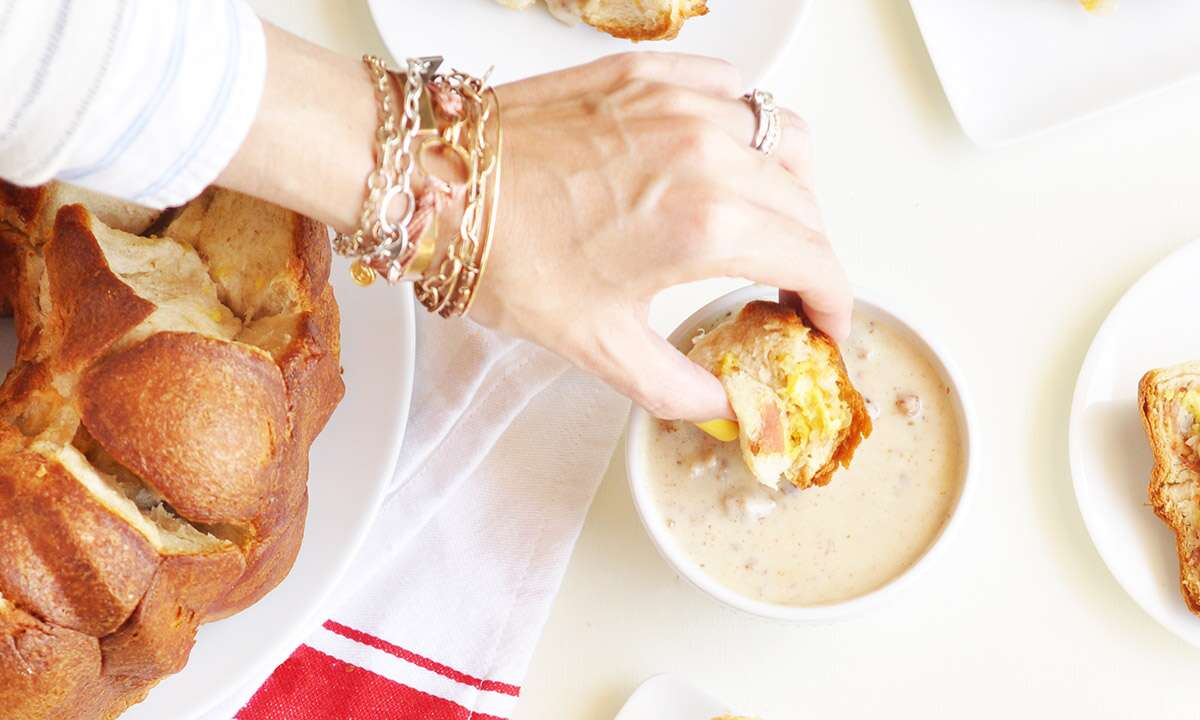 Ingredients
For the gravy
Directions
Preheat the oven to 350°F. Grease a bundt or tube pan and set aside.

In a bowl, whisk the eggs with a splash of milk, salt, and pepper. In a skillet, scramble the eggs over medium heat until cooked through, about 10 minutes. Add the crisped bacon and tater tots. Allow to cool slightly.

Cut the biscuits in half (or quarters if you want smaller pieces) and fill them with a bit of the egg filling. Form into a ball and place into the prepared pan. Stack them on top of each other, brushing each layer of rolled dough with melted butter and sprinkle with cheese. Bake for 20 to
25 minutes or until golden brown and cooked through. Allow to cool for 5 minutes before inverting onto a plate.

Make the gravy. In a small pot, melt a tablespoon of butter over medium-high heat. Add the sausage and heat through. Add the flour, stirring, and cook for a few seconds.

Whisk in the milk and cook until the mixture has thickened. Season with salt and pepper. Serve alongside the monkey bread as a dipping sauce.
Excerpted from Upscale Downhome: Family Recipes, All Gussied Up by Rachel Hollis. Copyright © 2016. Published with permission of Thomas Dunne Books, an imprint of St. Martin's Press, LLC.