Andrew Whitney of dell'anima, a cozy Italian restaurant in New York's West Village, likes revamping classic breakfast recipes. Every dish that comes out of his kitchen has an unexpected twist. Although shrimp and grits is a tried and true Southern breakfast, Whitney pushed the boundaries on the classic to make it his own—that's how Gamberi & Grits (gamberi is the Italian word for shrimp) was born. "The key is respecting the flavor combinations while making it your own—in this case, polenta instead of grits," Whitney says. For the home cook trying to figure out how to make shrimp and grits, he recommends buying shelled and deveined shrimp as an easy convenience. The polenta takes the most time to cook, but can be made in advance. The best way to eat this brunch classic, he says, is "with an empty stomach and spoon full of hunger."
dell'anima's Gamberi & Grits
Yields: 4 servings
Cook Time: 40 minutes
Hands-On Time: 20 minutes
Total Time: 1 hour
Ingredients
For the polenta
For the gamberi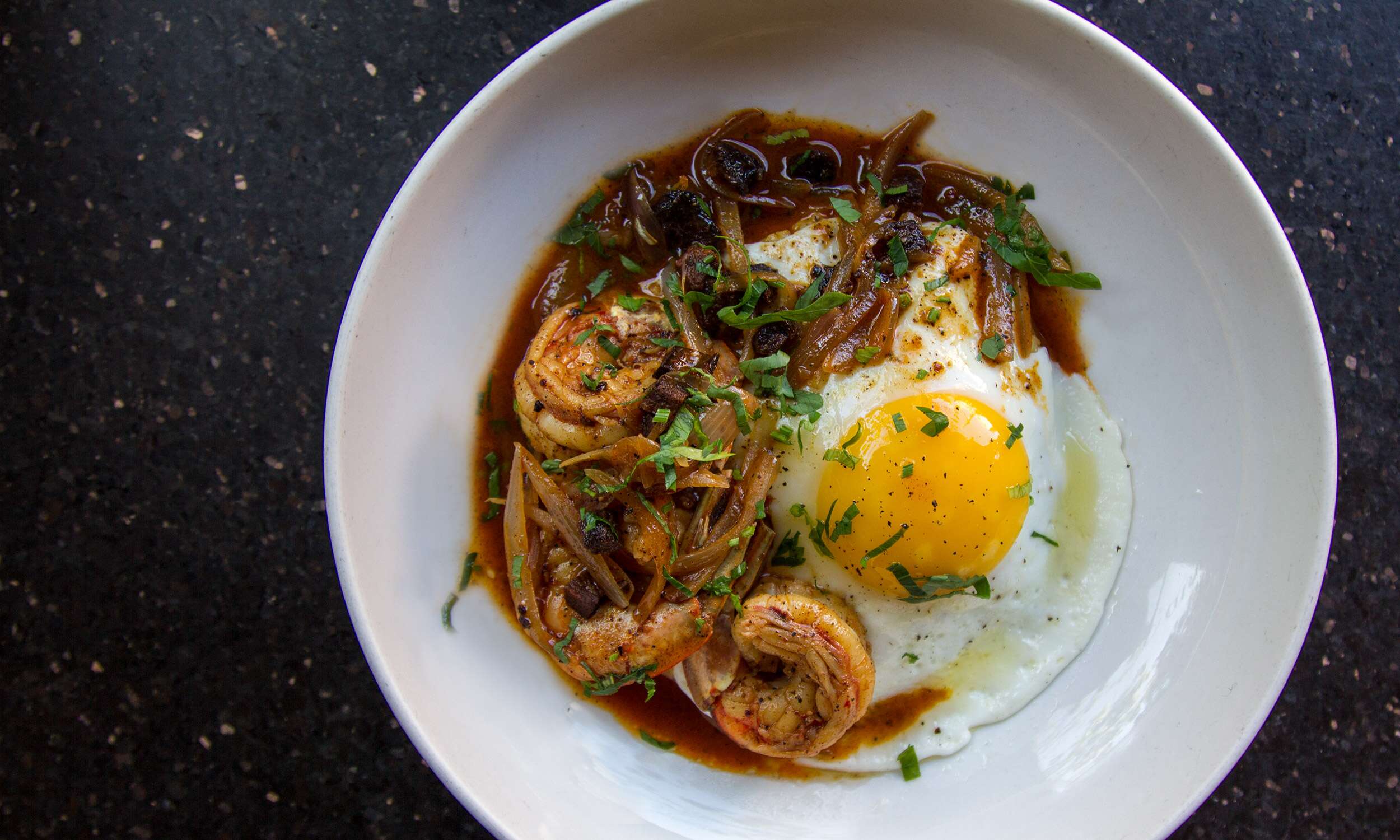 Directions
Make the grits. Preheat the oven to 350°F. Place the water, polenta, and ½ teaspoon salt in a medium (3-quart) ovenproof saucepan with a lid. Over medium heat on the stovetop, bring the contents of the saucepan to a simmer.

Place the saucepan in the oven and bake for 30 to 40 minutes. Taste the polenta to make sure that it is completely cooked and not raw-tasting. Whisk in the Parmesan, butter, olive oil, and the remaining ½ teaspoon salt. Taste and add more salt if needed. Set aside.

If serving within an hour or two, cover the polenta with a lid and keep in a warm oven at 250°F until ready to serve. Alternatively, you can reheat the polenta over medium heat on the stovetop. Add some water (about ¼ cup) to loosen the polenta and whisk constantly while reheating to smooth out the consistency and to prevent the polenta from scorching on the bottom of the pan.

Make the gamberi. To start, dice bacon into quarter-inch pieces. In a large sauté pan over medium-low heat, render out the bacon fat. Remove and reserve the bacon.

Using the bacon fat, sauté shallots over medium-high heat until full caramelized adding shrimp towards the end. Do not cook shrimp fully—sauté until it just starts to turn pink.

Add white wine and fully reduce.

Add shrimp stock and reduce three-quarters of the way.

Add lemon juice and butter to thicken, add the bacon back into the pan, and sprinkle salt and pepper to taste. Continue reducing until you have a thick sauce.

Remove from heat and serve. Portion grits onto individual plates and top with shrimp and sauce. Garnish with torn parsley. Finish with olive oil and an optional fried egg on top.