Chef Samantha Stephens of NYC's OatMeals shares "The Canadian"—one of the store's most popular signature bowls—around Election Day for Americans in need of a quick escape to Canada. This oatmeal recipe offers an easy transition into the world of savory oatmeal for timid or less experimental breakfast lovers. "My love of drenching crispy bacon in syrup as a kid brought on the oatmeal inspiration for this recipe," Stephens says. "I've always been a fan of the apple and cheddar combination and the bacon and maple syrup combination, and this recipe really brings all of my favorites into one bowl of oatmeal."
This savory oatmeal recipe calls for steel-cut oats, but it can be made quicker with instant, old-fashioned, or rolled oats. The cinnamon-roasted apples are especially perfect for fall, but you can slice them and add them to your oats still raw if you're in a rush to get somewhere.
OatMeals' "The Canadian"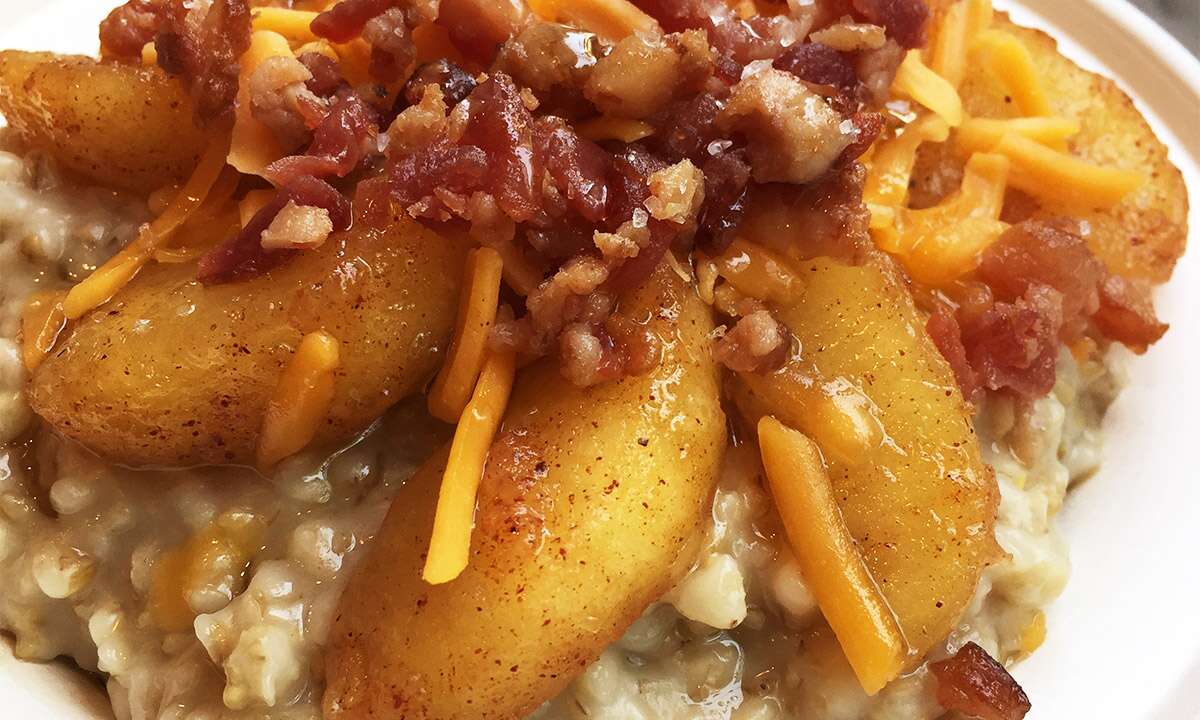 Ingredients
Directions
Bring water to a boil in a medium saucepan. Stir in oats and reduce heat to low. Simmer uncovered over low heat, stirring often, for about 25 minutes, or until oats are at desired texture.

While oats are cooking, make the sautéed apples. Peel, core, and dice 1 apple. In a small sauté pan, heat butter over medium heat. Add apple, brown sugar, cinnamon, and fresh lemon juice.

Sauté for 5 to 10 minutes on low heat, stirring often, until the apples are soft.

Transfer the oats to a bowl and top with apples, cheddar cheese, and crumbled bacon. Drizzle with maple syrup and a pinch of sea salt.