As the Breakfast Princess of Adventure Time's Breakfast Kingdom, it is my duty to continue to inform the world of breakfast's status as the most important meal of the day. We in the Breakfast Kingdom treat the meal as a sacred ritual—several courses and countless plates. This breakfast sandwich featured in Adventure Time: The Official Cookbook was created during the Brunch War. The French toast sandwich gave soldiers the strength to carry on and win the border between lunch and breakfast (which is 11 a.m.). Eat French toast with bacon, egg, and cheese in their honor. Just make sure to wash your hands afterward—they'll be sticky.
French Toast Dip Sandwich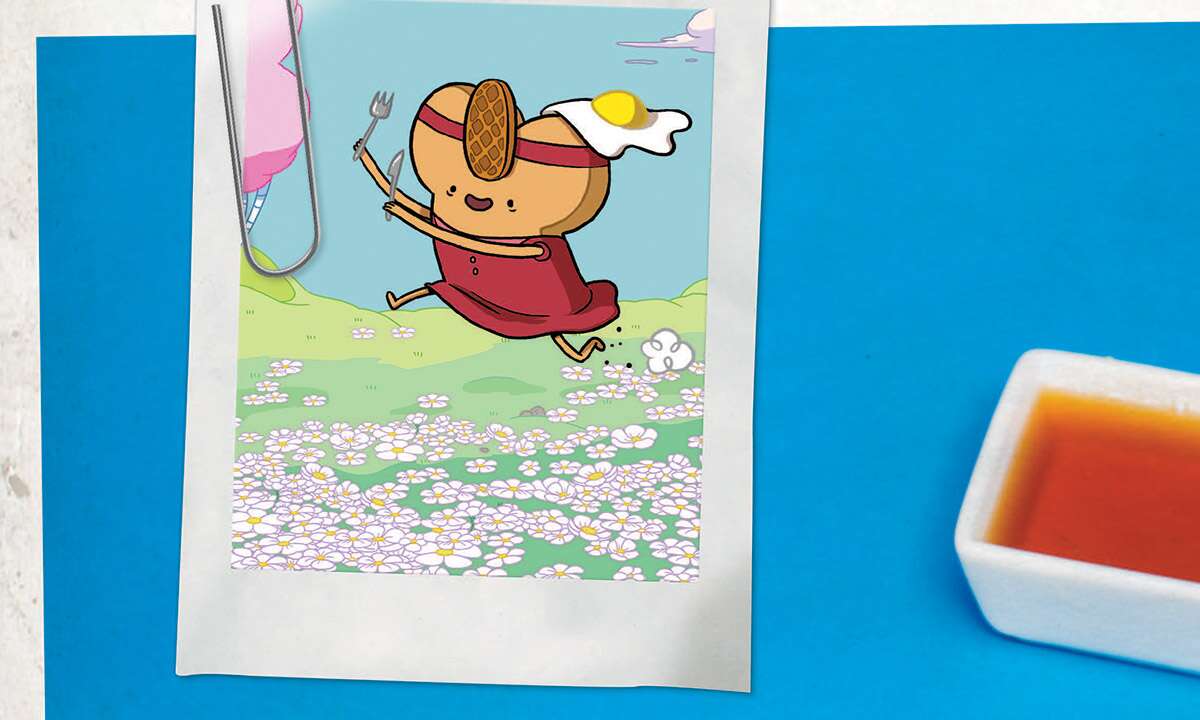 Yields: 4 servings
Total Time: 20 minutes
Ingredients
For the French toast
For the sandwich filling
Directions
Make the French toast. Preheat oven to 350°F. Break eggs into a medium mixing bowl. Add sugar, milk, and salt and whisk lightly.

Prepare a large skillet over medium heat with a little bit of butter to coat the pan.

Place bread slices in egg mixture one at a time, allowing each to soak up moisture for a few seconds. The bread needs to go directly from the egg mixture to the hot pan, so only soak as many slices at a time as the pan will fit.

Sear each slice in the pan until golden brown on both sides. Continue until all the bread is soaked and seared.

Assemble the sandwich. Start with one piece of French toast topped with two slices of bacon, a fried egg, and a slice of cheddar, closed off with another piece of French toast.

Place the whole sandwich in the oven until cheese is melted. Serve with a side of maple syrup.
Excerpted from Adventure Time: The Official Cookbook.™ Copyright © Cartoon Network 2016. Published by Insight Editions. All rights reserved.