Advent has arrived—hooray! Or alternately, huh? If you grew up in a household that celebrates Christmas, you probably know Advent as the period that starts four Sundays before the holiday, preparing worshippers to celebrate the religious meaning of the season. If you don't, you've probably seen the calendars with windows that pop open and dispense chocolate, liquor minis, or cheese. We're gonna go with that one. From now until Christmas, each day we'll reveal a new breakfast treat—like a nifty gadget, a simple tip, a recipe, or an object that celebrates the spirit of breakfast. Check in every morning for a little bit of holiday cheer.
9. Champagne Salute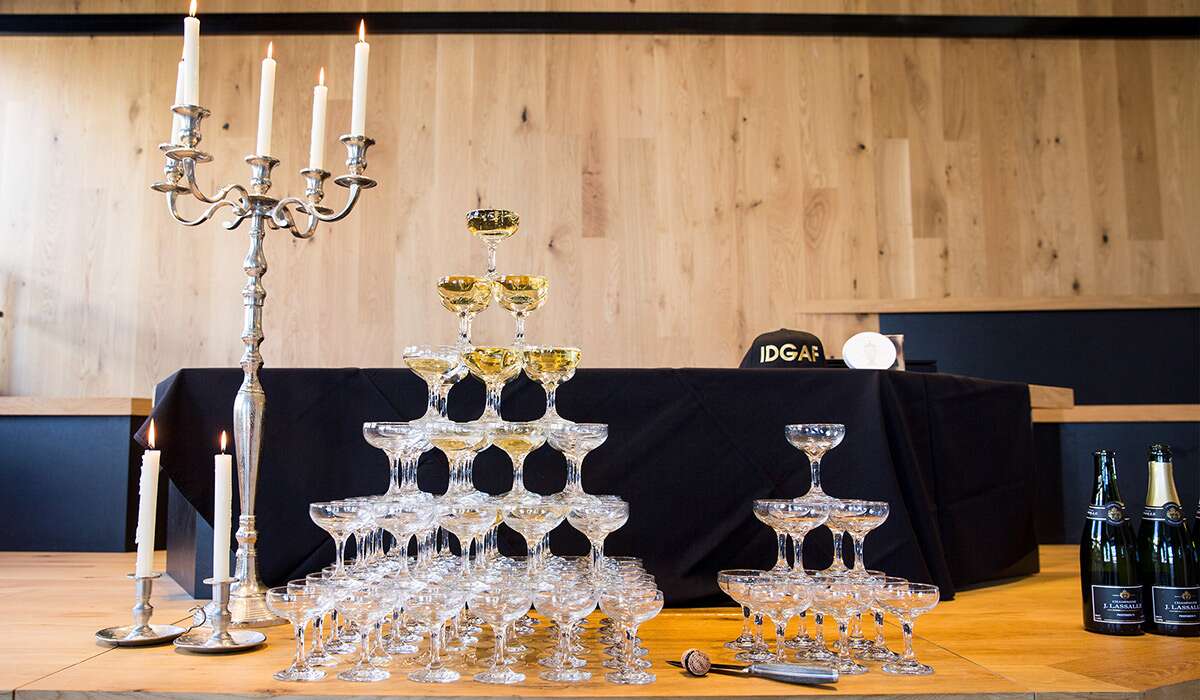 Know what makes a great brunch? Champagne. (Or prosecco, cava, and other fizzy wine.) Know what makes a brunch totally baller? A Champagne tower. There's a tiny bit of physics behind this elegant, over-the-top presentation, but you can totally handle it. Give yourself and your guests the gift of "Whoaaaaaaa!"
Here's how to build one.
8. Coddled Eggs
You deserve a fancy-ass morning. You just do. And that can come easily via a little bit of coddling. We're not talking a spa visit (though you can feel entirely free to do so), but rather cooking the softest, most luxurious eggs on the planet. All you need is a splash of cream, a slice of bacon, and the will to accept happiness into your heart. (And if you don't own an actual coddler, fret not—a small, lidded mason jar will work just fine.)
Treat yourself to coddled eggs.
7. Tamagoyaki
One of the kindest presents a grown-up(ish) human can give themselves is the gift of a brand-new show-off skill. Master the method for these cool little Japanese omelets (a.k.a. tamagoyaki) and impress the heck out of guests at your next brunch party or, um, sleepover.
Learn to make tamagoyaki.
6. Mini Spice Kit
Whether your gift recipient loves to make pastries or brew coffee, this cunning collection of baking spice, cinnamon, and natural cocoa powder from the much-loved Penzeys Spices trumps just about any non-edible option. If sweets aren't their thing, Penzeys offers a wild, wonderful variety of kits to suit every palate from homespun to far-flung.
4 Jar Bakers' Assortment Gift Pack, $12.95, penzeys.com
5. Petite Heart Cocotte
Everything tastes better when it's cooked from the heart, and here's your chance to make that a less metaphorical. Le Creuset's cunning little 1-cup stoneware crock is perfect for serving or cooking individual portions of shakshuka, grits, souffle, or any other dish your heart fancies.
Petite Heart Cocotte, $25, williams-sonoma.com
4. Cheese Necklace
Cult Brit jewelry maker Tatty Devine specializes in quirky, cool acrylic necklaces, rings, and pins that are often modeled after everyday objects. They've outdone themselves with a necklace that transforms wedges of Edam, cheddar, Stilton, Cheshire, and Swiss cheese hung like decorative bunting. A little cheesy? YES. That's the point.
Cheese Bunting Necklace, £40.00 ($51), tattydevine.com
3. Hot Bread Kitchen Breakfast in Bed
Hot Bread Kitchen's Breakfast in Bed sampler contains Persian Nan-e Qandi flavored with honey and sesame seeds, "My Mom's Nutty Granola" with whole almonds, peanuts and honey, traditional Challah bread that's ideal for French toast or slathered with Hot Bread Kitchen Incubator member Crosstown Sweets' plum and star anise jam. Recipe cards for French toast and almond babka come with, so you could even move the red-hot breakfast action to the kitchen and save the bedroom for other stuff—like cuddling up together in a sexy, sexy carb coma.
Hot Bread Kitchen Breakfast in Bed, $80, hotbreadkitchen.com
2. Frowny Sun Juice Glass
Turn that frown upside down—and dump the contents straight into your mouth. Adam J. Kurtz, the author and illustrator of Pick Me Up: A Pep Talk for Now and Later, brings his distinctive dark humor and charm to a collaboration with NYC cult kitchenware store Fishs Eddy in the form of housewares like a jaunty "You Tried" trophy, a small dish for "jelly beans, confetti, bus tickets, horseradish," and our favorite—a juice glass splashed with a little sun that's just not feeling it today. Got enough glasses? The mood-challenged icon is also screened onto a canvas tote bag.
Frowny Sun Juice Glass, $7, fishseddy.com
1. Egg Cup Soldier, Spoon, and Toast Cutter Set
Atten-shun! If you're keen to greet your day with a bit of an English accent, a Queen's Guard egg cup just might do the trick. This little red-trousered, black-hatted fella comes armed with a spoon of his own, as well a cutter for pressing out toast soldiers to dip into your properly soft-boiled egg. If the monarchy ain't your bag, the maker, Paladone, also offers egg cups in the shape of an Eggstronaut (with a rocket-shaped cutter), Batman (bat-shaped cutter), and a small military tank.
Egg Cup Soldier, Spoon and Toast Cutter Set, $22.98, amazon.com