Egg whites at breakfast should not be limited to omelets or scrambles. Whipped egg whites were a hit in our egg clouds, and are even better in this pavlova recipe. Hit pause on savory and aim high—and sweet. Pavlovas are usually categorized as dessert, but egg whites topped with whipped cream and fruit sound a lot like to breakfast to me. This winter pavlova is adorned with a pomegranate syrup, fresh pomegranate seeds, and orange wedges. Mentally prepare yourself because you must dedicate three hours to making this pavlova cake. Only ten minutes of the process are hands-on, and the oven takes care of the rest. You can make the pavlova ahead of time, or pop it into the oven when you wake up and let your head drift in the clouds for a while.
Pomegranate Pavlova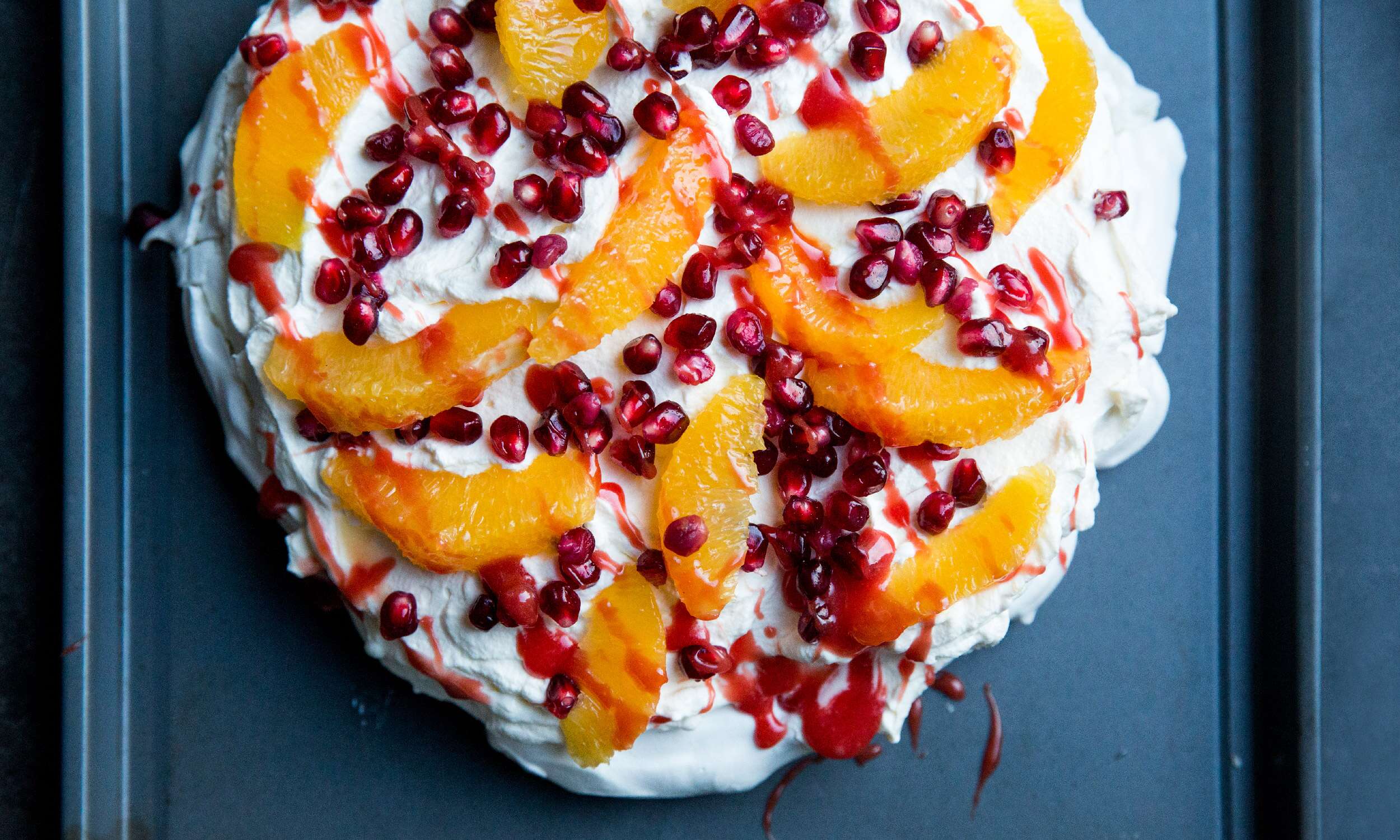 Yields: 8 to 10 servings
Cook Time: 3 hours
Hands-On Time: 10 minutes
Total Time: 3 hours 10 minutes
Ingredients
Directions
Preheat the oven to 180°F.

Place the egg whites in the bowl of a stand mixer with a whisk attachment. Mix over high speed for 2 minutes, or until egg whites are foamy and beginning to stiffen.

Slowly incorporate 2 cups sugar while still mixing on high speed. Mix for 3 to 4 minutes more, or until stiff peaks form. Fold in cornstarch and vanilla until just combined.

Spoon mixture onto a baking sheet lined with parchment paper and form into a 9- to 10-inch circle. Bake for 1 hour and 30 minutes, and then turn off the oven. Whatever you do, DO NOT OPEN THE OVEN DOOR. Let the pavlova sit in the oven for 1 hour before removing.

Meanwhile, segment the oranges over a bowl to catch any juice that falls. Reserve the segments and squeeze the remaining juice out of the oranges before discarding.

Combine the orange juice, pomegranate juice, and ¼ cup plus 2 tablespoons sugar in a small saucepan. Cook over medium heat until the sugar is dissolved and mixture begins to thicken. Turn off the heat and stir in 1 to 2 tablespoons of heavy cream. Reserve sauce.

Place remaining heavy cream and remaining 2 tablespoons in the bowl of a stand mixer. Using the whisk attachment, mix over high speed for 8 to 10 minutes or until stiff peaks.

Remove the pavlova from the oven and spread whipped cream over top. Top with syrup, reserved orange segments and pomegranate seeds.