Tyler Kord is chef/owner of No. 7 Restaurant and multiple No. 7 Sub Shops in New York City. His soon-to-be-published A Super Upsetting Cookbook About Sandwiches contains recipes for flavor-intensive breakfast delights like That Time Chris Parnell Played Benedict Arnold on Drunk History, The Sandwich (the egg-and-avocado combo of your dreams/nightmares), Lazaro's Revenge (the chorizo sandwich he claims will make you feel better about your life, the universe and everything—recipe coming tomorrow) and this sandwich, which may challenge your physical health, but lead you to a state of emotional excellence. It's a wash, so just go ahead and make the sandwich.
The Battle on Pork Chop Hill
Eggs are one of the best foods. I like them for breakfast, but I love them for dinner. This sandwich is going to make your heart explode. Seriously, in all of the ways you can think of.
Yields: Makes 4 sandwiches
Ingredients
Directions
In a small saucepan, heat the General Ruffner's sauce over low heat until warm. When the eggs are fried and drained, put them in a mixing bowl with the sauce and gently stir to coat them without breaking them.

Open the hamburger buns and put some muchim on the bottoms. On a cutting board, quickly cut the eggs in half lengthwise and place them on top of the muchim. Make sure that as soon as you cut them completely in half, you turn them up so that the yolks don't run everywhere.

This is going to be messy but completely worth it. Top the sandwiches with a little blue cheese and the tops of the buns, and attack.
General Clark L. Ruffner ****'s Sauce
The people of Buffalo, New York, have a long and proud tradition of frying chicken wings and then making them soggy in one of the most delicious ways possible. I grew up in Ithaca, New York, a town that is an hour closer to the First Niagara Center than it is to Madison Square Garden. And I grew up with a healthy appreciation for buffalo wings. This sauce won't take you back to the Anchor Bar, but you could just look up that recipe on the Internet if that's what you really want. Unless, of course, you're reading this book in some postapocalyptic future, in which case you are going to have a very screwed-up idea of food history if this is your only cookbook.
Yields: Makes about 2 cups of sauce, enough to coat stuff for 8 to 12 sandwiches
Ingredients
Directions
In a medium saucepan, melt 2 chunks of the butter over low heat. Once it is completely melted, increase the heat to medium, add the garlic, and sweat it while stirring for 2 minutes, or until it just begins to brown. Add the chiles and bell peppers and continue to cook until everything is super soft and melty, but the peppers aren't caramelized, about 10 minutes.

Pour the stew into a blender, add the gochujang, honey, vinegar, sesame oil, and salt, and puree until smooth.

If you're going to use the sauce now, return it to the pot and add the rest of the butter over low heat, a piece at a time, stirring until it's completely melted and incorporated. If you're not going to use it now, cool the sauce as is, and reheat and add the butter when you are ready to use it.
* It's a Korean fermented chili and soy bean paste that tastes like miso that can't be bothered to give a fuck. That's a good thing.
Cucumber Muchim
Ingredients
Directions
Stir together the garlic, ginger, shallot, sesame oil, sugar, chile flakes, vinegar, scallions, and salt until thoroughly mixed. This marinade can be used to pickle just about anything. Just soak whatever you'd like in the brine for at least an hour before using, and save it in the brine, refrigerated, for up to a couple of weeks.
Soft-Boiled Fried Eggs
Make these all of the time. They're delicious, your friends will be impressed, and more importantly, if you bring someone home after a date and fry up some of these, you will not necessarily get laid, but if getting laid was already in the cards, and you and the person you might have sex with are hungry, then this will make sure that everybody has a good amount of fat, protein, and salt to really feel good about the situation.
Ingredients
Directions
Fill a large stockpot halfway with water and bring it to a boil over high heat. Set a timer for 7 minutes, but don't start it yet. When the water is boiling, very gently add the eggs, being careful not to drop them too hard or they will crack and they won't look as awesome, though they'll be just as delicious. Start the timer! When the timer goes off, cool the eggs in a bowl with some ice water.

In a large saucepan, heat 3 inches of the oil over medium heat to 400°F on a candy/frying thermometer. (If you don't have one of those, get one. Or look and see if the oil looks really weirdly wavy and a bread crumb sizzles instantly when you drop it in. Frying things at home is like living at McDonald's! Childhood you is winning!!)

Once the eggs are cooled, peel them, but be gentle because they're only soft-boiled and pretty delicate. We made 8 eggs so that you would end up with 6 or so nice ones, so it's not the end of the world if you break a couple. Let the eggs hang out and dry off on paper towels.

In a small mixing bowl, combine the egg whites and cornstarch and whisk until the cornstarch is fully dissolved and the mixture is smooth.

Dip an egg in the cornstarch/egg-white mixture and let the excess drain off. Gently toss it in the panko and then put it on a plate while you repeat the process with the rest of the eggs.

When the oil is ready, turn the heat up to medium-high and fry the eggs in two batches, flipping occasionally, until golden brown, about 2 minutes.

Drain on paper towels and immediately season well with salt.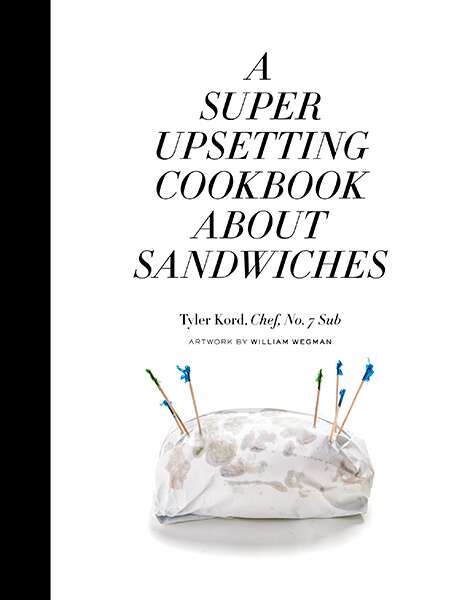 Courtesy of Clarkson Potter. Cover photo copyright © 2016 by Noah Fecks
Reprinted from A Super Upsetting Cookbook About Sandwiches. Copyright © 2016 by Tyler Kord. Photos copyright © 2016 by Noah Fecks. Artwork copyright © 2016 by William Wegman. Published by Clarkson Potter, an imprint of Penguin Random House, LLC.