Have you ever gone out and ordered every IHOP pancake on the menu in one afternoon and rated them for taste and creativity like you're a judge on an episode of some brand new, masochistic Food Network competition show that would probably be hosted by Guy Fieri? Well, if you haven't, don't worry. We've gone ahead and done it for you. (And if you have, well done. Let's compare notes?) On a recent Wednesday afternoon, I went to IHOP with our resident design wizard Lauren Kolm and photographer-slash-video producer Alex Tepper to try every single IHOP pancake and rank them so that you can make the most informed decision when you go to your local IHOP.
(Speaking of your local IHOP, big thanks to the servers at the IHOP near Manhattan's Union Square who didn't make fun of us when we ordered every single pancake on the menu and were the kindest, sweetest humans throughout this sugary, and occasionally messy, process.)
Our methodology was relatively simple. For each pancake listed on the menu, we ordered a stack of two with no substitutions or changes. Alex photographed the two-stack, then Lauren and I tasted it, occasionally feeding him bites in between shots. After we gave notes on all nine flavors of pancakes, we ranked them.
Read on for individual reviews of each pancake. Hopefully this guide to IHOP pancakes will help you make better decisions than we did.
9. Red Velvet Pancakes
The Red Velvet pancakes were more brown than red, which was actually fine because the Red Velvet pancakes were more chocolatey than the Chocolate Chocolate Chip pancakes. But these pancakes got knocked because of the cream cheese frosting on top was a lot. Upon tasting it, Alex said simply, "Oh, God. There's no reason for that sauce." The sauce was just too sweet, the kind of sweet that leaves your teeth vibrating afterward, and no one needs that.
8. Rooty Tooty Fresh 'N Fruity Pancakes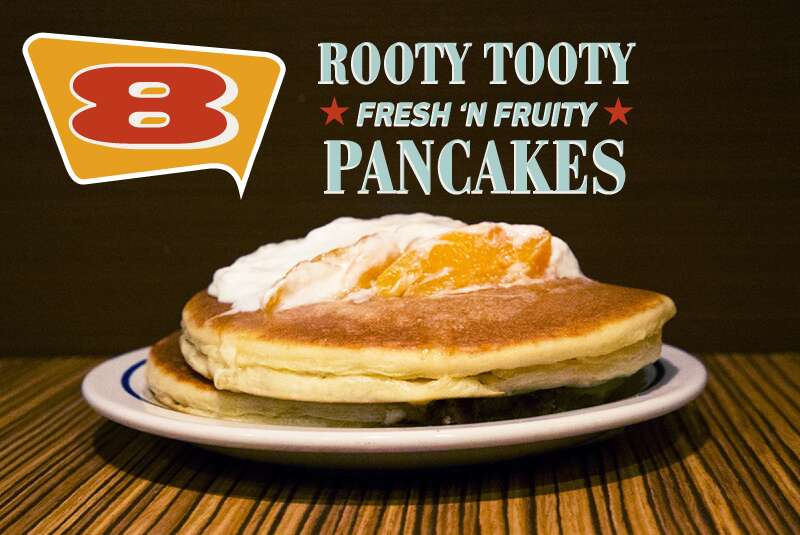 I was excited to try the Rooty Tooty Fresh 'N Fruity pancakes, based on the name alone. What kind of joyous fruit is rooty and tooty and fresh? The answer, my friend, is canned peach slices. So really, the Rooty Tooty Fresh 'N Fruity pancakes are a lie: a stack of Original pancakes with a topping of canned peach slices. The slippery peaches did not match the texture of the fluffy pancakes, and I felt duped. As Lauren said, "I don't need a second bite, you know?"
7. Chocolate Chocolate Chip Pancakes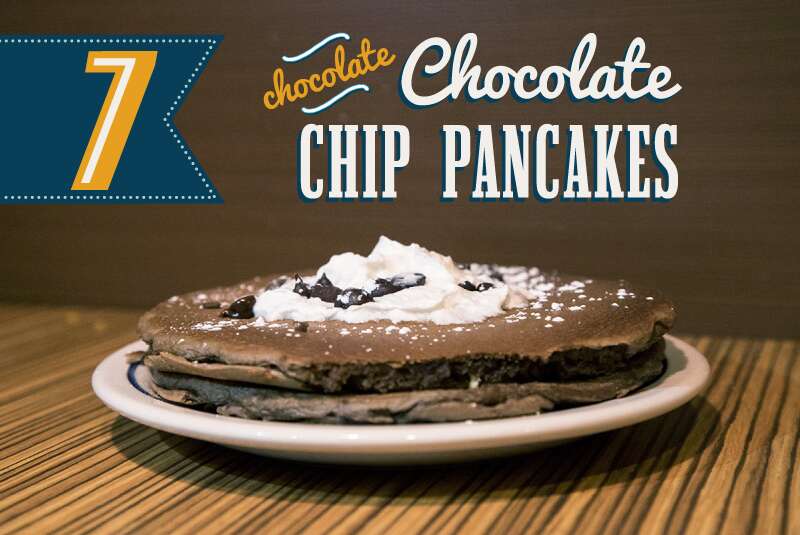 "It looks like candy. I love candy," said Lauren when the all-chocolate pancakes with chocolate chips were brought out onto the table. One bite in, however, and Lauren had changed her mind. "I don't like it." The pancakes were simultaneously undercooked in the center—which is dope, because who doesn't love an undercooked chocolate cookie—and overcooked on the edges, which was not dope. These Chocolate Chocolate Chip pancakes were more chalky than chocolatey, which is a shame, given the emphasis on "chocolate" in the dish's title.
6. Harvest Grain 'N Nut Pancakes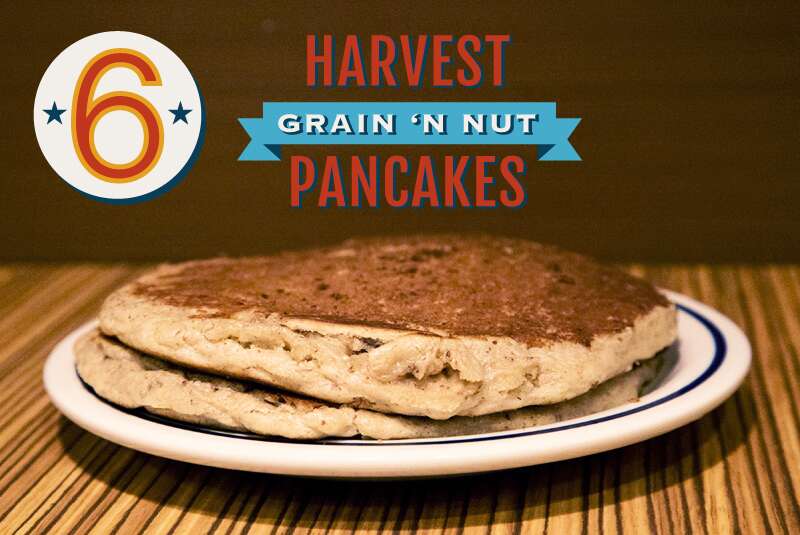 When we embarked on this quest, Alex, our resident IHOP aficionado, was stoked to eat these Harvest Grain 'N Nut pancakes, calling them his favorite. I, on the other hand, was skeptical. By my logic, if you're going to IHOP to eat pancakes, why order the "healthy" ones? Sadly for Alex, my skepticism was warranted. They were chunky from the nuts and not sweet at all. Even Alex admitted that these weren't great. "They're usually finer," he tried to explain to me. I still wasn't convinced.
5. Strawberry Banana Pancakes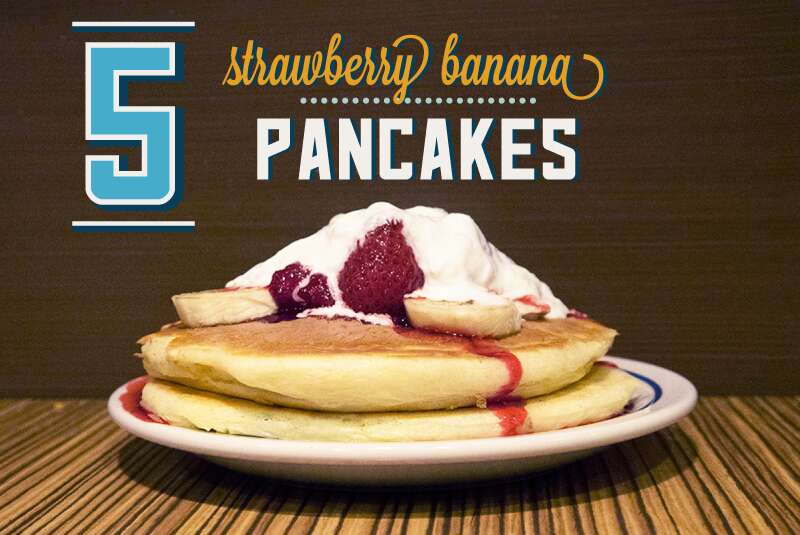 The Strawberry Banana pancakes have banana slices cooked into the pancakes, which made them the moistest pancakes we tasted. They also came topped with fresh banana slices, which offset the sweetness of the accompanying strawberries, which were syrupy and saccharine. (Presumably the same strawberries that were used on the New York Cheesecake pancakes.) "You can't fake a fresh banana," Lauren wisely noted, adding, "I appreciate that there's no banana syrup."
4. Raspberry White Chocolate Chip Pancakes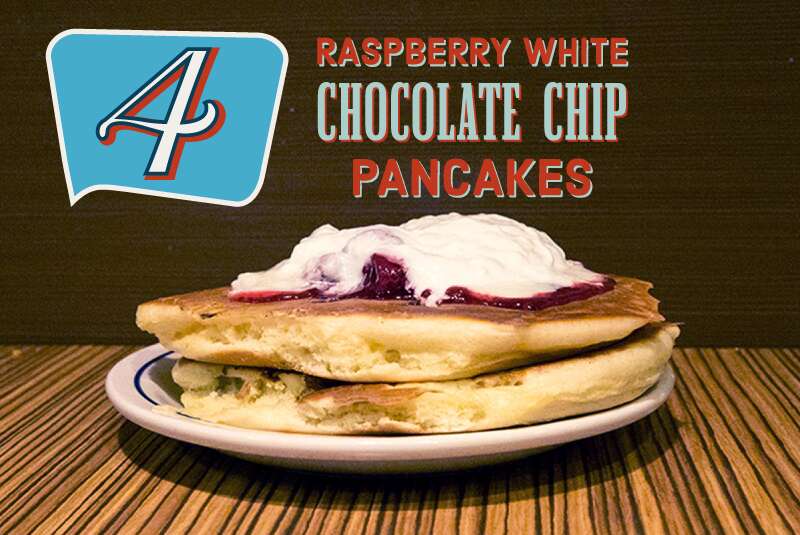 It should be noted that by this point in the afternoon, we were reaching peak sugar high, and our reviews got increasingly cursory and, well, weird. And the Raspberry White Chocolate Chip pancakes were the most sugary of all. According to the IHOP website, these pancakes have 68 grams of sugar per two-pancake serving. The white chocolate syrup on top made us cringe, since it was somehow even sweeter than that cream cheese frosting, and staring down at the stack, we were overwhelmed. "Everything could be scaled back one layer," said Lauren. The raspberries were good, though. Fruit is good.
3. Double Blueberry Pancakes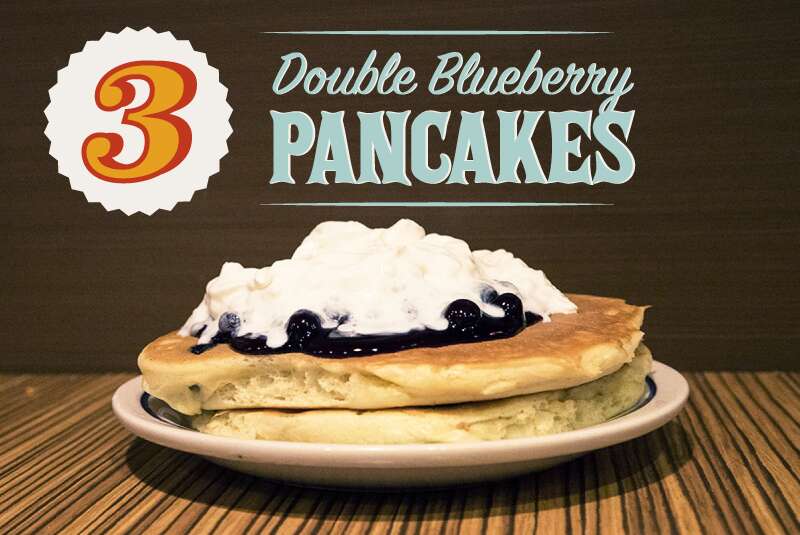 "I like that there are actually blueberries," noted Lauren, referencing the syrupy drizzle of blueberries that sat on top of this stack of pancakes. But for the first three or four bites of the Double Blueberry pancakes, we weren't entirely certain that there were also blueberries cooked into the pancakes. We eventually found them, but it took some digging.
2. New York Cheesecake Pancakes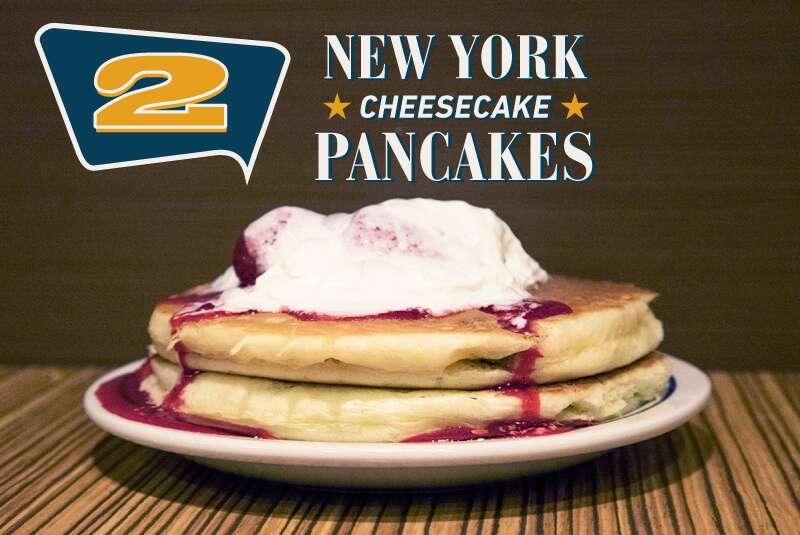 We were told that the New York Cheesecake pancakes had cheesecake bites baked into them, and though we couldn't find them for a few bites (a recurring theme at IHOP, apparently), once we did, we were elated. "It's fun," exclaimed Lauren. "It's a surprise!" I was admittedly dubious about the cheesecake bites, because what does that even mean? But they were delicious, adding a bit of sponginess to the texture of the pancakes and a little bit of tang that cut through the sweet, syrup strawberries. Alex even compared them to ricotta pancakes, which might be, like, his highest form of praise for pancakes.
1. Original Pancakes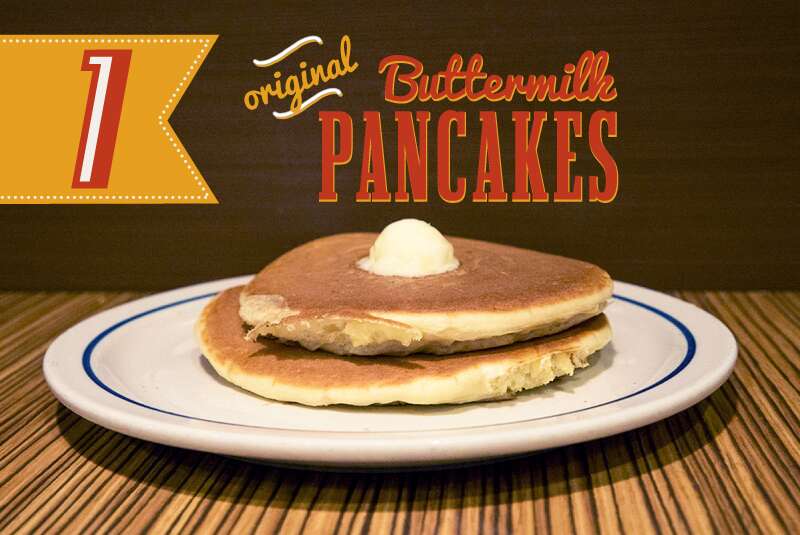 "It's a classic," I said. "It's a good pancake," said Alex. "This is the one I want to keep eating," added Lauren. The Original Pancakes were our favorites, by a long shot, and they're the reason you should go to IHOP.