When asked about her inspiration for this monkey bread babka, James Beard Award-winning pastry chef Sherry Yard explained, "I'm a Brooklyn gal. I grew up with babka." But this isn't any old babka recipe. Served at the Tuck Room Tavern in Los Angeles, California, "Our dish brings babka it to a whole new level, topped with a cinnamon streusel, and we pour mocha hazelnut sauce over the top," Yard said. The dish is designed to be shared, as is everything on the brunch menu at Tuck Room. "I created the menu with shared dishes to start your brunch with, from the bite size smoked salmon popovers to the latke fries and, of course, our monkey bread."
Babka, a sweet pastry made by twisting together pieces of dough, can be a notoriously challenging for home cooks to make. And this recipe for monkey bread babka isn't for beginners. (You'll definitely need a stand mixer, for starters.) But that shouldn't deter an adventurous home baker from trying their hand at this sharable pastry for a weekend brunch. Yard has some tips for folks wanting to make this dish at home for a crowd. "Keep the filling 1 inch from the border," she noted, and emphasized the importance of scattering the filling evenly. "When rolling keep in small turns and keep it tight," Yard added.
Even if your monkey bread babka doesn't come out looking gorgeous, it'll still be delicious. Oh, and be sure to drizzle on the hazelnut chocolate sauce right at the end, ideally in front of your guests for maximum chocolatey impact.
Monkey Bread Babka with Nutella Glaze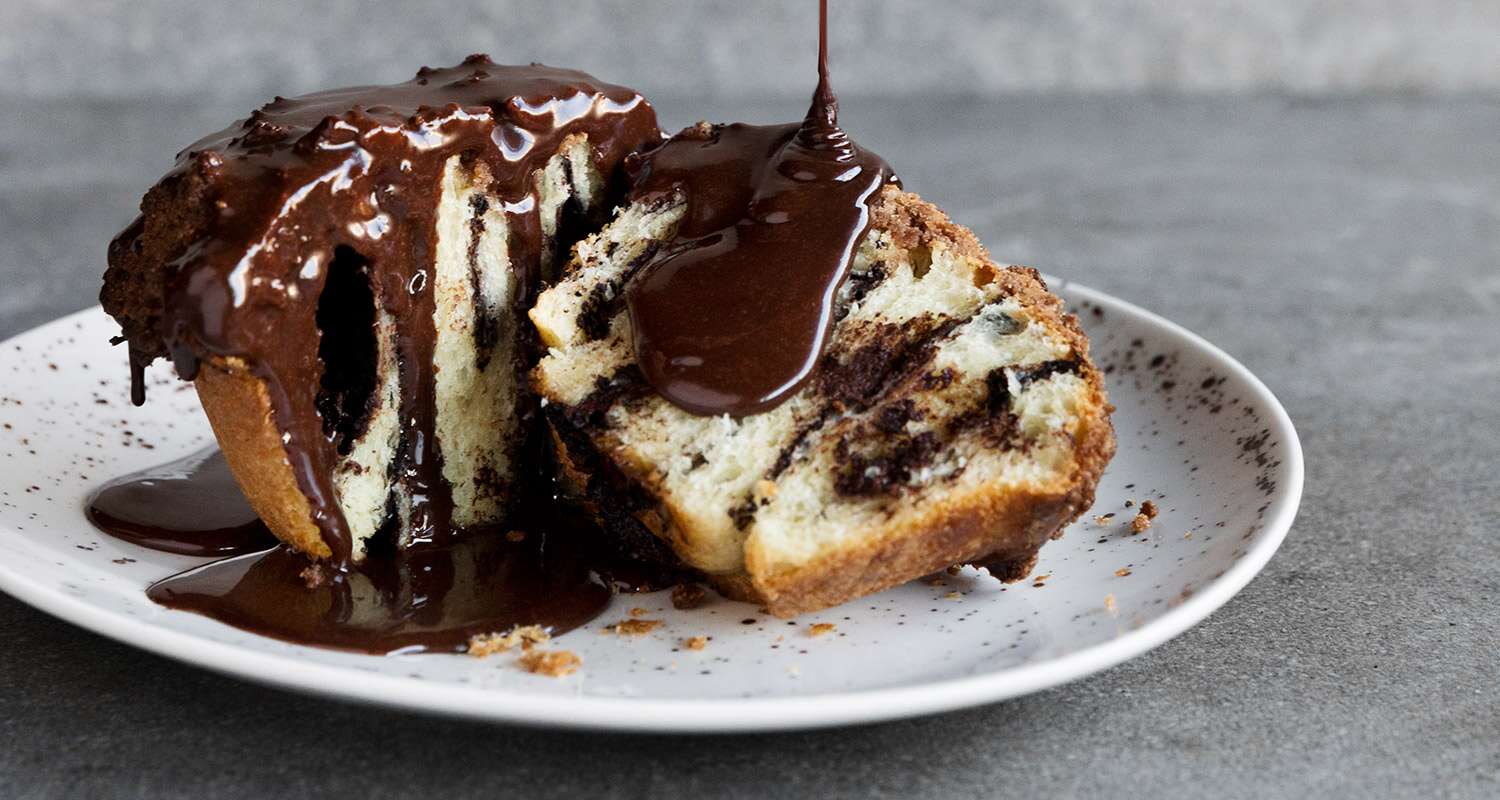 First, make the brioche dough.
For the sponge
For the brioche dough
For the egg wash
Directions
Make the sponge. In a mixer, whisk together yeast and milk. Add bread flour and whisk to combine. Cover with remaining bread flour and all-purpose flour, then sugar. Sponge—which means letting the yeast sit, rise, and ferment a bit—in 70°F for 20 to 30 minutes. The flour will crack on top.

Make the brioche dough. Place the mixing bowl on a machine fitted with a hook attachment. Add the 4 eggs in one shot. Begin to mix the dough for 1 minute. Scrape down. Then turn up the speed and mix for 5 minutes. Do not leave the dough! Watch as the elasticity develops.

Add the softened butter in 3 stages so that there are no lumps, and scrape down after each addition of butter. Once all the butter is incorporated, continue to mix on low speed for 2 minutes.

Spray a pan or bowl with pan coating or cooking spray, scoop dough into the container and cover with a lid or plastic wrap.

Proof at room temperature for 1 to 1½ hours, which means letting the yeast rise. "Punch," fold dough over itself, refrigerate. Watch dough in the refrigerator to see if it needs "punching" again. This adds more oxygen. Refrigerate overnight.

The next day, take out the dough and place on a cooling rack with a bag cover. Place a pan with hot water at the bottom of the rack, and proof, or let it rise, until dough comes just above the pan.
Once the dough is ready and done proofing, it's time to make the cocoa-sugar dust, streusel topping, and prep the chocolate filling. (All you have to do is put these ingredients in bowls, mix them up until combined, and set aside until you need them.)
For the cocoa-sugar dust
For the streusel topping
For the chocolate filling
Now make the Nutella glaze.
For the Nutella glaze
Directions
Place the water and milk into a medium saucepan and bring to a simmer over medium heat.

Remove warm milk and water mixture from heat.

Place chocolate in food processor with the warm milk and water mixture and pulse until combines.

Add the Nutella and slowly blend until smooth. The glaze will tighten up as it cools.

To warm before serving, place in microwave bowl for 10 seconds at a time. You can make this glaze in advance of serving; it'll last in the refrigerator for up to 2 weeks.
You're almost there! It's time to put it all together.
Directions
Dust work surface with all-purpose flour and roll half of brioche dough to 16-inch x 16-inch rectangle. Egg wash the entire surface.

Dust dough with half of the cocoa-sugar dust. Scatter half of the chocolate chips evenly over the cocoa-sugar dust.

Roll up dough by tucking dough into a tight tube, pulling backwards each time to ensure an even circle and sealed edges.

Place rolled monkey bread onto parchment paper and transfer to a sheet pan. Put in freezer for 1 to 2 hours before portioning.

Once chilled, remove monkey bread from freezer and place on cutting board. Portion into 1 ½-inch pieces.

Spray large muffin tin with pan coating (or cooking spray). Press down on monkey dough with your fingers to fill the cavity.

Brush with egg wash. Top each piece with a heaping tablespoon of streusel topping.

Proof the dough for 1 ½ hours at 70'F, until doubled in size. (This is the final rise of the yeast dough before baking. All you have to do is cover the dough with a towel, and leave it alone.)

Bake at 350°F for 15 minutes, then turn and bake for another 10—12 minutes.

Remove from oven and allow to cool for 10 minutes. Then grab that Nutella glaze and serve it immediately, pouring the sauce over the pastry in front of your guests.