If you've ever tried to eat vegan at Starbucks, you know that it can be pretty slim pickings. Sure, most Starbucks drinks can be customized to exclude dairy. (After all, the company has been offering soy milk since 2004 and recently upped its non-dairy game with the addition of almond milk last fall.) But if you're looking for a vegan food at Starbucks, you've been basically limited to fruit cups, a plain bagel, and packaged snacks like select Kind bars, mixed nuts, and Hippeas. That all changes this week, though, with the introduction of Starbucks' first certified vegan breakfast. Called Overnight Grains, it's made by "cooking" quinoa, chia seeds, and steel-cut oats in coconut milk. It's served with a layer of pineapple and mango at the bottom, along with almond slices and toasted coconut.
I visited a store in Manhattan that was offering this new Starbucks breakfast item, and, to be quite honest, it didn't really look that pretty, even with colorful layer of tropical fruit. But perhaps that's to be expected because, well, it's oatmeal. The packaging, however, is compact and functional. The label on the top says, "Certified Vegan," and it's clearly designed to be an on-the-go breakfast, especially since they're kept with the other grab-and-go foods in the fridge, like the Bistro Boxes. When you take off the plastic lid, you see that the almond and toasted coconut slices are kept in a separate container above the actual oatmeal, so they don't get soggy. It also means you can add as many or as few almonds as you'd like.
Aesthetics aside, I was excited to try Starbucks' new vegan breakfast, and I wasn't disappointed. The overnight grains taste really good. You'd never know there was no dairy included unless you read the label closely. They're that creamy and rich. The fruit at the bottom is nice and bright without being too tart, and the almonds add a nice crunch and texture to the otherwise soft grains.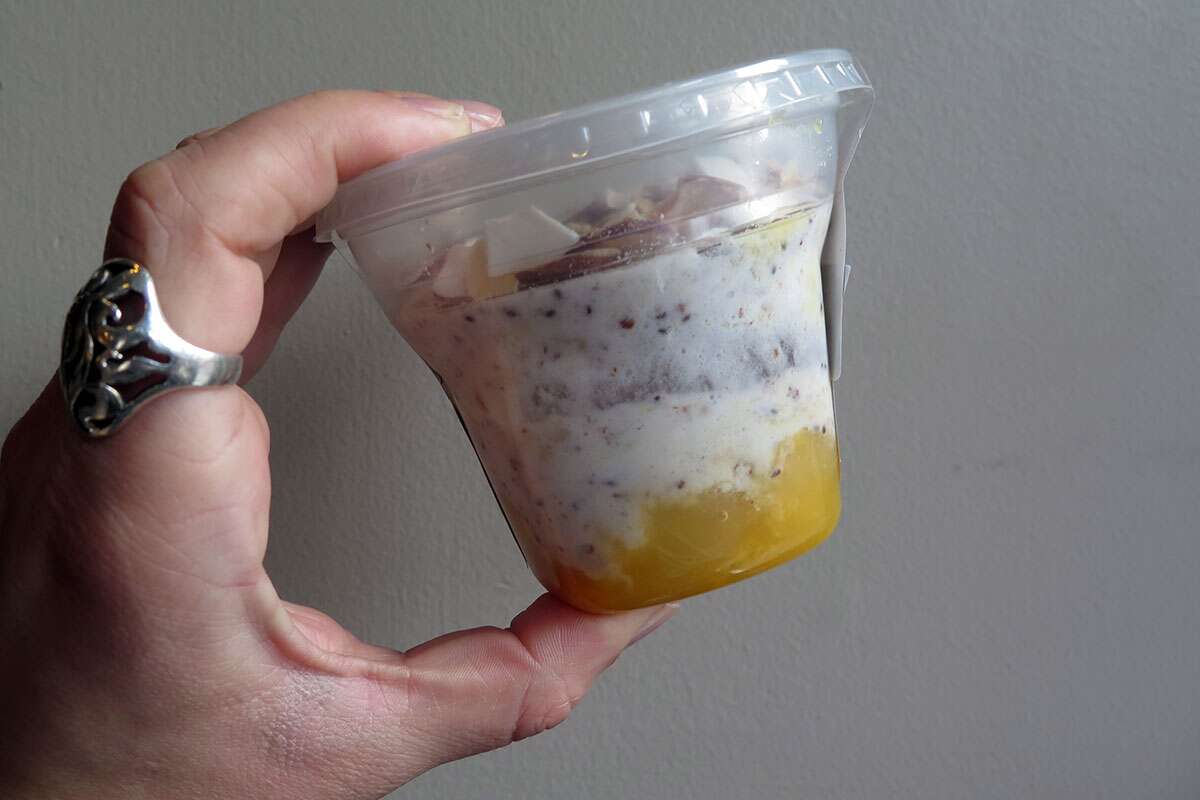 Unfortunately, vegans—or folks who can't stomach dairy—who don't live in New York are going to have to wait to try this new breakfast. Starbucks started testing the Overnight Grains at less than 600 stores in New York on Valentine's Day, and there are no clear plans to take them nationwide. But it does mark Starbucks' newfound commitment to taking their customers' nutritional needs seriously and making sure it can offer different dishes for folks of every dietary restriction.
That's a big deal for a company that's poised to become the world's largest food company in just a few of years. It's an acknowledgement from the corporate level that being vegan or eating a plant-based diet isn't a fringe thing for folks who live on communes or in co-ops. It's mainstream, and it's something customers want. It's also further proof that eating a vegan breakfast can be more exciting than a bowl of fruit and doesn't have to taste gross, either, which is always a good thing.