While I may be the type of lady who curses like a sailor and drinks milk straight from the carton, my comfort zone is the little old lady section of the diner menu. My daily breakfast of choice will always be a cup of coffee and buttered toast. If it's a festive weekend brunch with friends, I'll let myself go a little crazy and order a nice, sensible cheese blintz.
At lunchtime, I order the special, because who doesn't like value? And as the waitress clears the remains of my cup of Manhattan clam chowder and chicken salad on whole wheat toast, she asks, "Would you like Jell-O or rice pudding for dessert?" Duh.
I love rice pudding, but I always forget it exists. The only people who ever remember to order rice pudding on the regular are the little old ladies. Behind my external bravado, in the deepest crannies of soul, I am at one with them. I desire to be timeless and wise, to find beauty in the classics, revel in life's simple joys. My spiritual center is diner pudding and sensible shoes.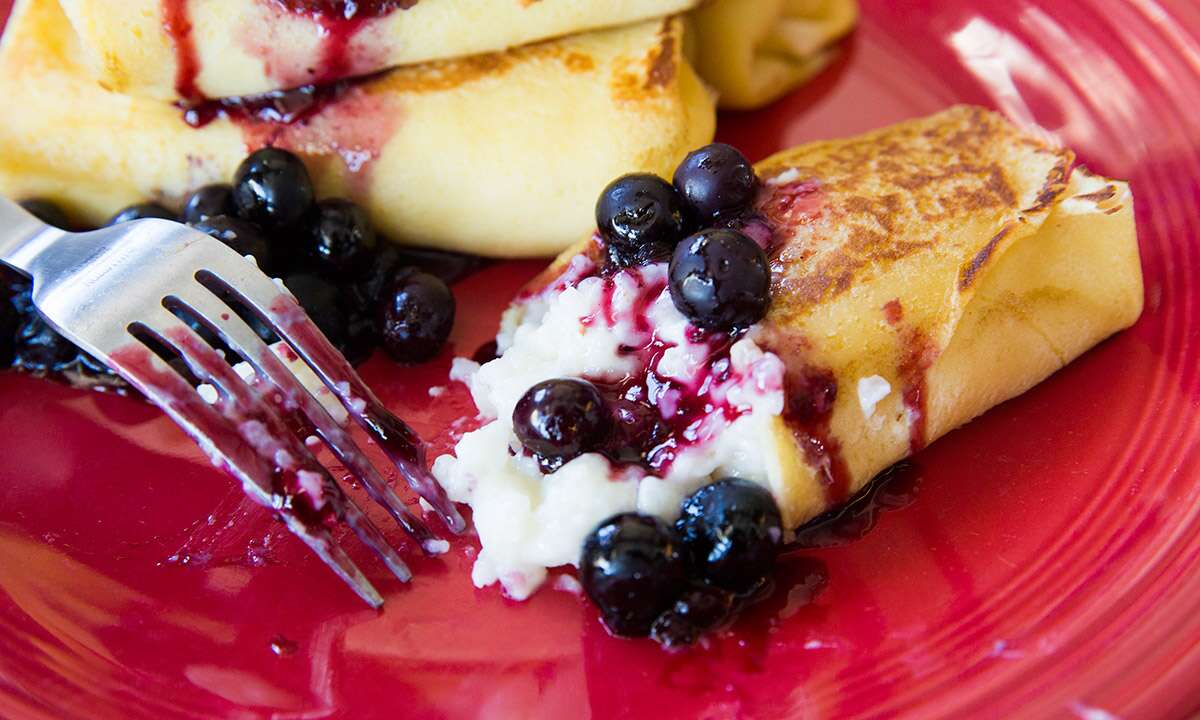 Sadly, we live in an age where standards such as rice pudding, cheese blintzes, and Wonder Bread toast are woefully underappreciated. Practical things rarely pop on Instagram—too much brown and white, not enough rainbows.
But who says we can't make a little old lady food minotaur, combining excitement and a photogenic pedigree with timeless, tasteful sensibilities? Why can't we come to the brunch table with something that will inspire everyone to take out their phones and type, "Sweet! I freaking love rice pudding! #puddinggoals" in Instagram comments the world over? We're throwing together a black shift dress and a string of pearls, and reminding everyone who taught the young folks how to make breakfast in the first place.
Little old ladies are wiser than you could ever hope to be. Respect your elders.
Rice Pudding Blintzes with Blueberry Sauce
Yields: 8 blintzes
Hands-On Time: 30 minutes
Total Time: 2 hours
Ingredients
For the blintz batter:
For the rice pudding:
For the blueberry sauce:
Note: Use whatever jam or berries you want. I'm not your grandma.
To make the blintzes:
Whisk eggs until pale yellow, then add sugar, milk, and water. Mix in flour and salt, and allow to sit for at least one hour, or overnight in the refrigerator if you can.
To make the rice pudding:
In a medium saucepan, combine cooked rice, milk, salt, and sugar. Cook over medium heat, stirring constantly, until mixture thickens—about 5 minutes.

Remove from heat and add the half-and-half and beaten egg. Stir vigorously for 1 minute. Stir in vanilla. Transfer to a bowl, cover surface with plastic wrap, and chill for at least 30 minutes.
To make the blueberry sauce:
In a microwave-safe bowl or small saucepan, stir together jam and hot water, then cook until it begins to steam and thins a bit.

Stir in blueberries and continue to heat. If using microwave, cook in 1-minute increments, stirring in-between. If cooking on stovetop, cook on medium low, stirring constantly. When berries have burst and appear cooked, remove from heat. Keep warm.
To assemble the blintzes:
Heat a crepe pan or medium nonstick skillet over medium-high heat, and coat well with cooking spray. Pour ¼ cup of the blintz batter into the pan, swirling to cover the bottom evenly. Cook for about 45 seconds until it sets, then slide it off onto a baking sheet. You do not need to flip to cook the other side, but remember not to stack them after you take them out of the pan. Continue until all the blintzes are cooked. You should have at least 8 blintzes.

Put ½ cup of the chilled rice pudding in the middle of each blintz, and use the back of a spoon to shape it into a little rectangle. Fold the left and right sides of the blintz in towards the center—they do not need to touch. Fold up the bottom up over the filling, then fold the top down over it to make something that looks like a little rice burrito. Repeat until all the blintzes are stuffed.

Heat your nonstick skillet once again over medium-high, coating well with either cooking spray or a bit of melted butter. Add blintzes, folded side down, and cook for about 3 minutes a side until brown and crispy. Remove to serving plates, dust with cinnamon, and serve with warm blueberry jam on the side.
Note: If you have any leftover rice pudding, you can either serve on the side, or hide in the back of the fridge so no one will ever know you have a "secret pudding stash."
Allison and Matt Robicelli are the authors of the critically acclaimed cookbook Robicelli's: A Love Story, with Cupcakes and have created multiple internationally viral desserts.