Morning light filters in the windows as the family leans over steaming bowls of coffee, hot chocolate or tea. Nothing distracts from the curls of steam coming up from the bowls, the scent of toasted baguette, the caramel aroma of butter as it melts into it the holes of the bread. Along with the toast might be chausson aux pommes, morning pastry native to Normandy. Every neighborhood patisserie offers the buttery slippers of puff pastry folded over compote, applesauce. The chaussons that inspired my recipe come from local French baker Michel Amsalem, who makes his own compote, mixing in a few pears with the apples. Try them, for a real breakfast a la française.
Apple Slippers (Chaussons aux Pommes)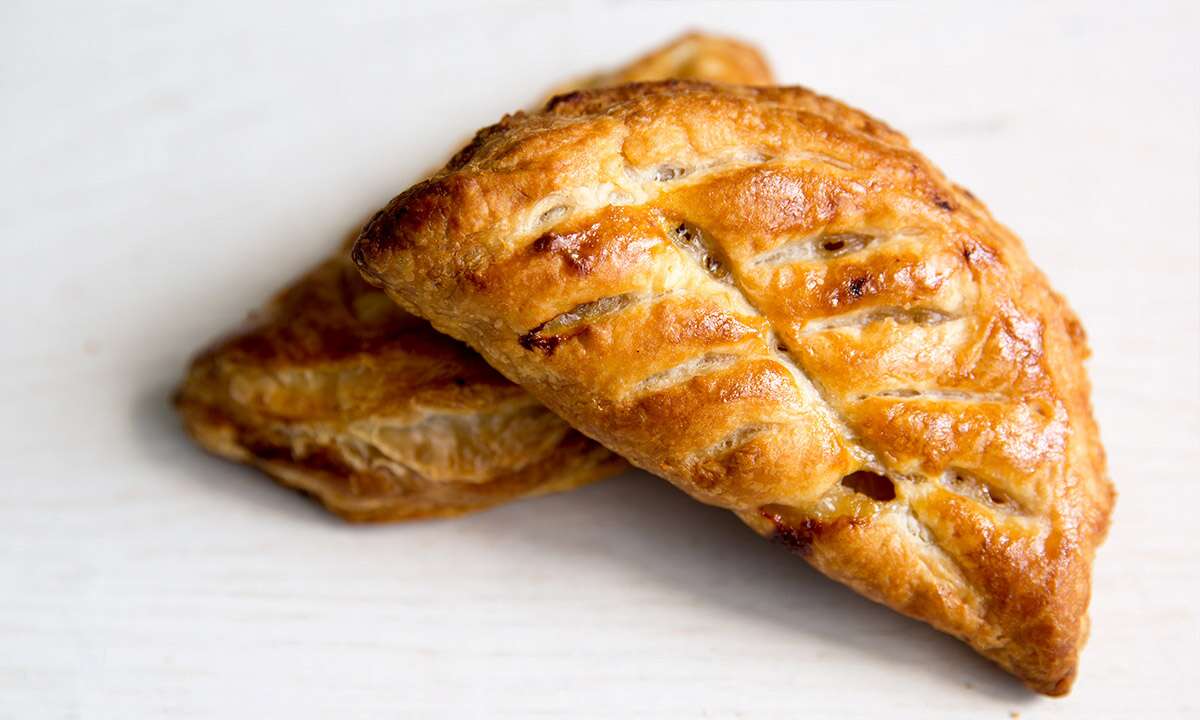 Ingredients
Directions
Preheat the oven to 400°F and position a rack in the center.

Cut out 8 circles of puff pastry measuring about 5 inches in diameter. Roll out the circles to make ovals that measure about 7x5 inches.

On the lower third of each oval, place 2 tablespoons of compote. Whisk together the egg and the water in a small bowl and brush some of this egg wash around the bottom edge of the ovals, then bring the top edge up and over the compote, to form a half oval. Gently but firmly press the edges of the pastry together, without completely mashing the edges or they won't puff.

Brush the top of each chausson with the egg wash, then, using a very sharp knife, make three or four slashes in the top of each chausson.

Bake until the chaussons are golden and the pastry is completely puffed, about 20 minutes. Remove from the oven and let cool for 10 minutes before serving. The filling may still be very hot, so warn your guests.
Apple and Pear Compote
Ingredients
Directions
Place the apples, pears, vanilla bean, and the water in a large saucepan and set over medium heat. When the water is boiling, reduce the heat to medium-low, cover, and cook until the apples and pears are completely soft, 20 to 35 minutes depending on the varieties of fruit you've used. Check the fruit frequently to be sure that it is not sticking to the bottom of the pan. If necessary, add water, 1 tablespoon at a time, to prevent the fruit from sticking.

Remove the pan from the heat. Remove the vanilla bean and use an immersion blender to purée the fruit directly in the pan, or transfer it to a food processor, purée, and return to the pan. If the compote is more liquid than you like, you can continue to cook it over medium heat, stirring almost continuously, until it thickens.
Reprinted from In A French Kitchen by arrangement with Avery, a member of Penguin Group (USA) LLC, A Penguin Random House Company. Copyright © 2016, Susan Herrmann Loomis