Have you ever noticed a small plastic container filled with fresh flowers while you were walking through your local farmers market? Delicate edible flowers seem intimidating to cook with, but it's actually easy to add a perfumey floral finish to any breakfast dish. Here, pretty blue and purple pansies are used as a garnish to bring a pop of color to a basic crepe. Feel free to use any variation of edible flowers you can find at the market or grocery. There are even flowers you can eat that are already growing in your backyard—just be sure they haven't been treated with pesticides or other harmful chemicals. It's true that not every flower is edible, but the ones that are make for a crepe recipe that's almost too pretty to pop in your mouth. (You'll get over it.)
Note: Allow at least one hour for the crepe batter to sit.
Edible Flower Crepes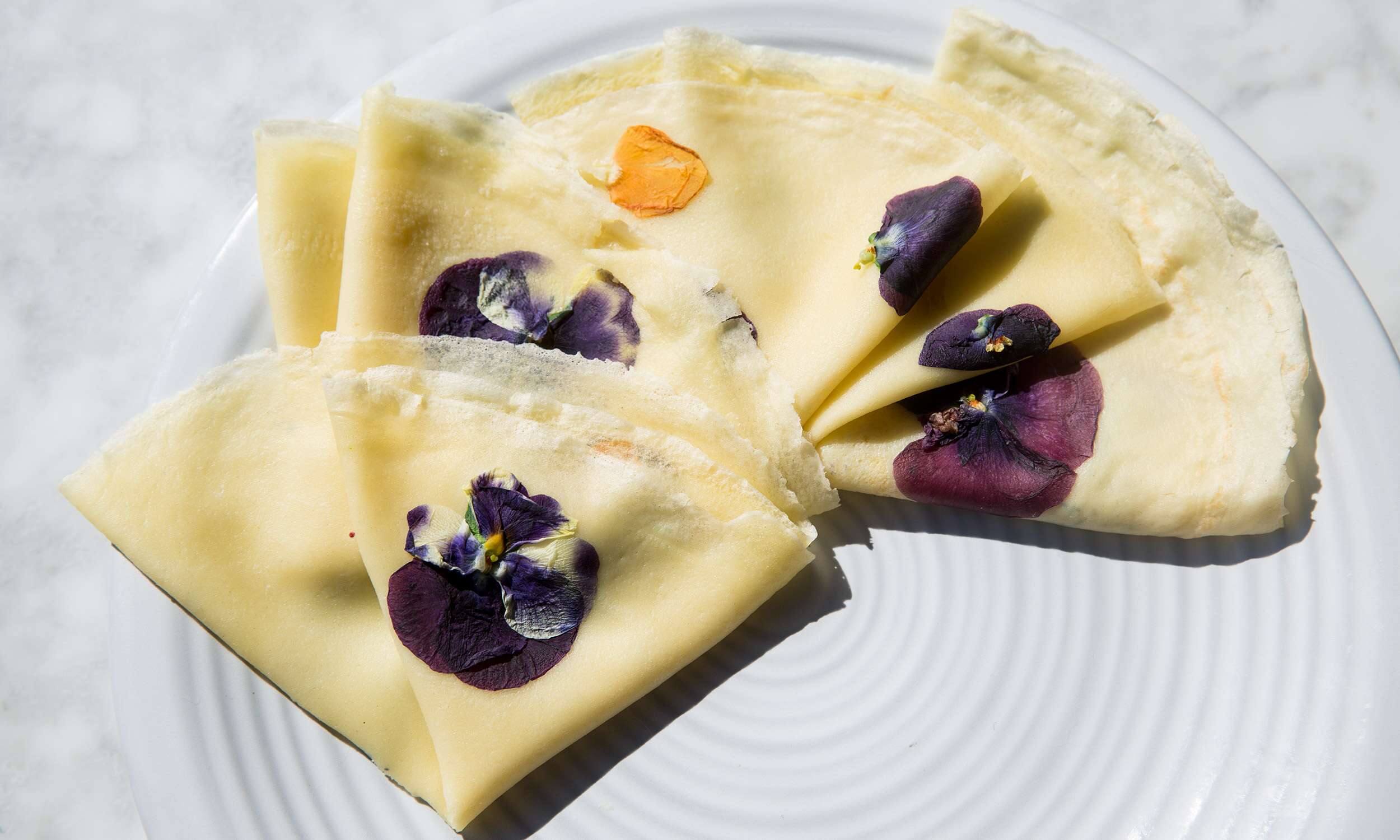 Yields: 4 to 6 servings
Cook Time: 1 hour 10 minutes
Hands-On Time: 5 minutes
Total Time: 1 hour 15 minutes
Ingredients
Directions
Make the batter. Combine ingredients in a blender and pulse for 10 seconds or until well combined.

Let it rest. Cover and refrigerate for at least 1 hour, but no longer than 48 hours, before using.

Heat the pan. Heat a large nonstick skillet over medium heat. Once pan is hot, add only enough butter to lightly coat the pan.

Cook the crepes. Reduce heat to medium low, ladle ¼ cup of the batter in the middle of the pan, and quickly swirl the pan to spread the batter.

Make them look pretty. Place a couple of edible flowers on the crepe, cook for 1 minute. Flip and continue cooking for 30 seconds.