In New England, it's traditional for cider makers to use freshly pressed juice to create the region's beloved sweet and tangy treat: apple cider doughnuts. In this version from Ellen Jackson's Portland Farmers Market Cookbook, reduced cider is replaced with applesauce, and the still-warm apple doughnuts are dunked in a cider and applesauce glaze. Adding hazelnut (a.k.a. filbert) meal to the batter gives this doughnut recipe a distinctly Northwest twist. The hazelnut doughnuts come from Barb Fouke, filbert farmer and owner of Oregon's family-run orchard Freddy Guys Hazelnuts (99 percent of the country's crop is grown in the state—who knew?). The nuts from Freddy Guys Hazelnuts are processed into ground meal for a new take (and a heart-healthy boost) on homemade doughnuts, like this nutty, all-American gem.
Apple Cider–Glazed Hazelnut Doughnuts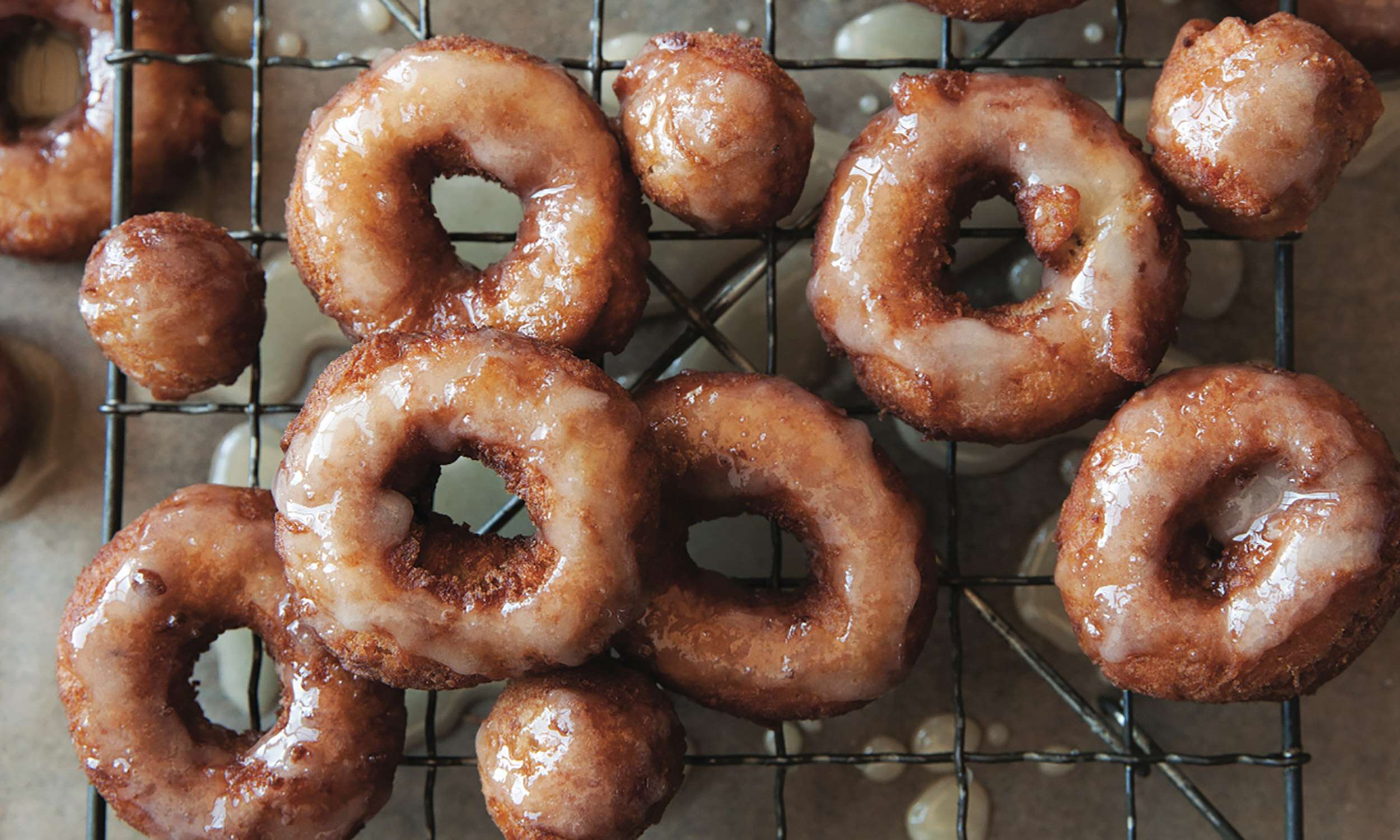 Ingredients
For the dough
For the glaze
Directions
In a large bowl, thoroughly whisk together the flour, hazelnut meal, nutmeg, baking powder, baking soda, and salt, breaking up any lumps.

In a medium bowl, whisk together the applesauce, sugar, sour cream, butter, eggs, and egg yolk. Make a well in the dry ingredients and add the wet ones, gradually pulling in the dry ingredients and stirring just until combined. The dough will be very soft and sticky. Cover the bowl and refrigerate the dough for 1 hour.

While the dough chills, make the glaze. In a shallow, wide bowl, whisk together the sugar, applesauce, 2 tablespoons of cider, and a pinch of salt. Add more cider as necessary, whisking to achieve a thick, smooth glaze the consistency of honey. Set the glaze aside while you finish the doughnuts.

After 1 hour, turn the dough out onto well-floured work surface and knead it lightly until it is smooth, adding flour as needed. Pat the dough out into ½-inch thickness and cut it out using a floured 2 ½ inch doughnut cutter or 2 round cutters, one approximately 2 ½ inches and a smaller one ¾ to 1 inch. Gently knead the scraps together, reroll, and cut again until you have a dozen.

Preheat a deep fryer or heat several inches of oil in a deep pot to 350°F. Fry the doughnuts and holes 2 or 3 at a time, turning them as they rise to the surface. They should be turned no more than 2 times and will take a total of 2 to 3 minutes. When they're ready, they'll be golden brown. Remove to a pan lined with paper towels to drain and glaze while still warm.

To glaze the doughnuts, add them to the bowl of glaze one at a time, turning over to coat both sides. Shake off any excess glaze and set aside to dry on a baking rack or a baking sheet lined with parchment paper.
Variations
Orange Sour Cream: Substitute 4 tablespoons zest (from 2 oranges) and ½ cup puree from whole oranges for the applesauce, increase the sour cream to 1 cup, and decrease the nutmeg to 1 teaspoon. Make a glaze with 2 cups confectioners' sugar and 2 tablespoons orange juice.
Pumpkin: Substitute ½ cup pumpkin puree for the applesauce and increase the sour cream to 1 cup. Reduce the nutmeg to 1½ teaspoons and add 2½ teaspoons ground cinnamon, 1 teaspoon ground ginger, and 1½ teaspoons ground cloves. Make a glaze with 2 cups confectioners' sugar, 2 tablespoons milk, and ¼ teaspoon ground cinnamon.
Excerpted from Portland Farmers Market Cookbook: 100 Seasonal Recipes and Stories that Celebrate Local Food and People by permission of Sasquatch Books. Copyright © 2016 by Ellen Jackson. All rights reserved.