Chef Johnathan Sundstrom, author of Lark: Cooking Wild in the Northwest, uses these mini frying pans to make potato rösti at his Seattle restaurant Lark. (A small cast-iron pan will work perfectly for the average home cook.) Before he arrived at this method, he used to make one large Swiss rösti, and after it cooled down a bit, he'd cut it into wedges to serve alongside a ribeye steak. At Lark, Sundstrom serves this rösti recipe with clabber cream or crème fraîche and minced chives as a side dish, or with sustainably raised Yellowstone River paddlefish caviar on its crispy top as a starter. If you're feeling extra indulgent, try it with American white sturgeon caviar, a great alternative to the delicious (yet overharvested) caviars of Russia and Iran.
Rösti Potatoes
 with Clabber Cream and Paddlefish Caviar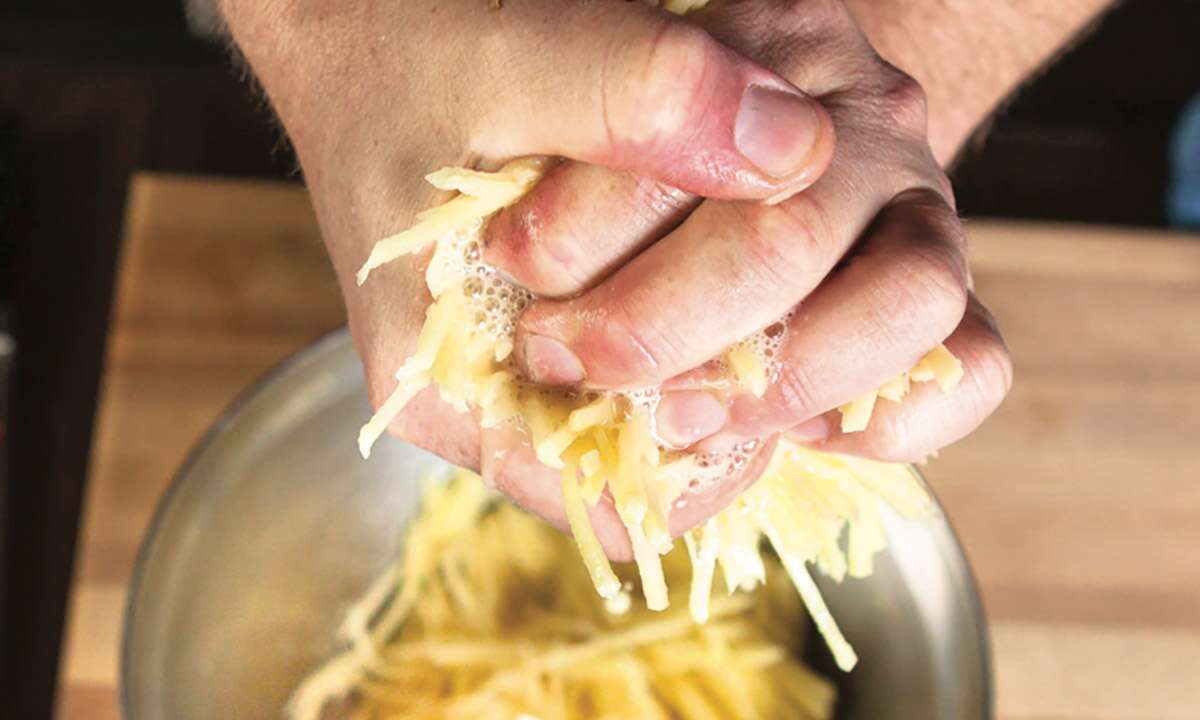 Ingredients
Directions
Preheat the oven to 450°F. Place either four mini frying pans or one small cast-iron skillet in the oven to preheat.

Shred the potatoes into about 1/16-inch pieces on a mandoline with a julienne attachment. Use your hands to squeeze out as much water as you can from the julienned potatoes. (This will help them brown and crisp when cooking.) Season the potatoes generously with salt and pepper. Let the potatoes sit at room temperature for about 10 minutes, then again squeeze out as much water as you can with your hands.

In a small saucepan, melt the duck fat. Drizzle about ¼ cup of the melted fat over the potatoes. Mix well to incorporate. Place about 1 tablespoon of the remaining duck fat in each mini frying pan, or the full remaining ¼ cup if using a cast-iron skillet. Divide the potatoes evenly among the mini pans, or spread them all evenly in the cast-iron skillet, and place the skillet(s) back in the oven.

Cook for 12 to 15 minutes, or until the röstis are golden and crispy on the bottom. Flip them over and cook for another 6 to 8 minutes, or until golden and crispy on the other side.

Serve the röstis with a generous amount of clabber cream, caviar, and a sprinkling of chives.