Searching for the most baller of all breakfast dumplings? Look no further than our bacon, egg, and cheese dumplings. You brake for bacon, egg, and cheese breakfasts and you give it up for dim sum, so why not combine the two? This breakfast dumplings recipe showcases the ultimate a.m. dumpling filling made with bacon, egg, cheese, and a few chopped scallions for good measure. They're simple to fry up in under 20 minutes, meaning you won't have to waste a single second of your precious time during the morning rush. Feel free to stick to tradition(ish) by dipping your bacon, egg, and cheese dumplings into soy sauce, but these dumplings truly shine when paired with Sriracha, or ketchup. (Pssst, maple syrup definitely works here, too.)
You're probably wondering how one might go about making breakfast dumplings. Start with the filling, of course. Crack a few eggs into a small skillet over medium heat. Scramble, and set aside in a medium mixing bowl. Next, fry the bacon until crispy (or extra crispy, if you please) and add scallions to the pan. Mix it all together for just one minute and then separate the bacon and scallions from the grease with a fine mesh sieve, or a fish spatula. Add the bacon and scallions to your mixing bowl and combine with the eggs and a heaping handful of cheese.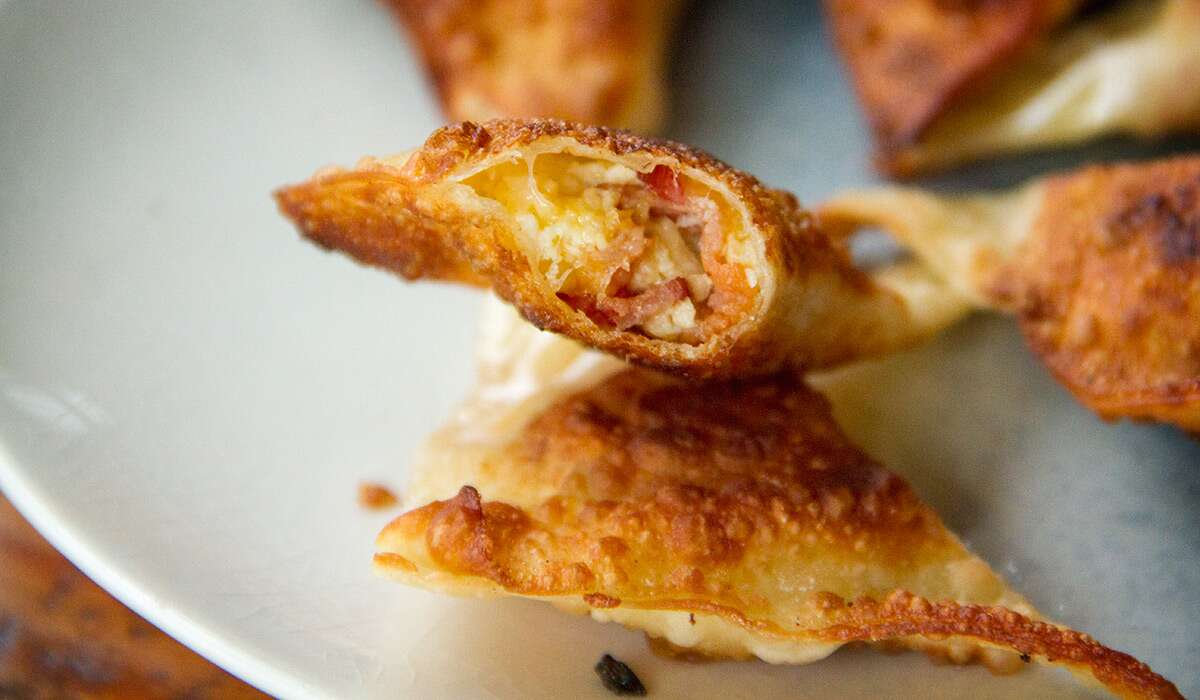 Now, you're ready to build your B.E.C. breakfast dumplings. Place a tablespoon of the filling in the center of each dumpling wrapper. Dip your finger in water and run it along all four outer edges of the wrapper. Fold diagonally and press the edges together, so it stays closed while cooking. Fill a medium pan with 1 inch of oil and set over medium-high heat. Once the oil is hot enough, slide your dumplings into the pan and fry for two minutes on each side, or until beautifully brown. Don't wait for them to cool—just dunk them right into a bowl of Sriracha and feast.