The origins of chicken and waffles are fairly murky. Some food historians cite the American South as the dish's birthplace, while others claim it originally comes from Pennsylvania Dutch country. John Seymour, owner of New York's Sweet Chick, credits the jazz musicians from the Harlem Renaissance for creating this classic comfort around the 1950s. "Chicken and waffles was born out of music," Seymour says. "At four o'clock in the morning, at the end of somebody's jazz set, the musicians went to eat and couldn't decide between breakfast or dinner. Whoever was in the kitchen said, 'Well, I could make some waffles, and I have fried chicken from last night.' And, that's really how it was born."
In a nod to its (possible) New York roots, the city's signature Americanized Chinese takeout inspired Seymour's General Tso's chicken and waffles. Nods to leftovers found in many New Yorkers' fridges pop up throughout this dish—for instance, the rice flour and steamed broccoli that are incorporated into the waffle batter. Chicken pieces are soaked overnight in a sweet-tea brine, dredged in buttermilk, then coated in flour twice before frying. (Shhh, that's Seymour's secret technique for extra crispy chicken.) To finish, the fried chicken gets tossed in a spicy, homemade General Tso sauce. It's a seriously wake-your-senses breakfast that just might make you channel the Biggie Smalls' lyrics that inspired Sweet Chick's motto: "It was all a dream."
Note: Allow time for the chicken to sit in sweet tea brine overnight.
Sweet Chick's General Tso's Chicken & Waffles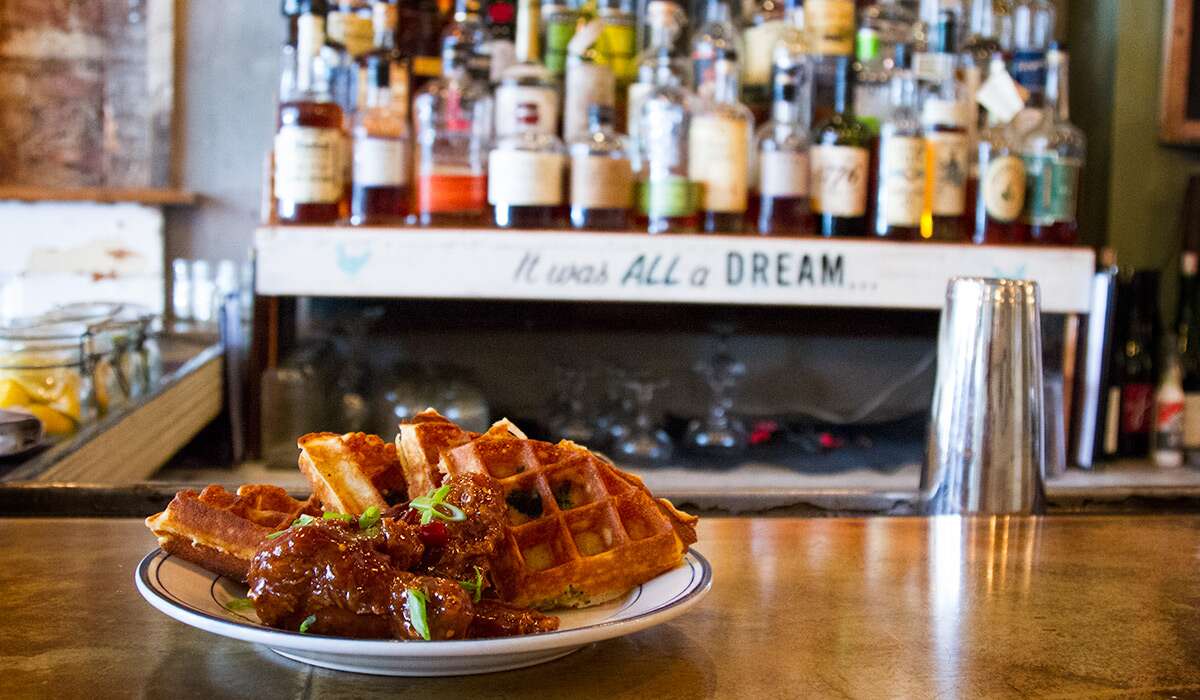 Yields: 8 servings
Cook Time: 1 hour
Hands-On Time: 2 hours 45 minutes
Total Time: 3 hours 45 minutes
Ingredients
For General Tso sauce
For sweet tea brined fried chicken
For the rice and broccoli waffle
Directions
Make the sauce. In a large pot over medium heat, sweat garlic, ginger, and scallions with sesame oil.

Deglaze the vegetables with bourbon and reduce by half.

Add remaining ingredients except for starch and simmer for 30 minutes.

After 30 minutes have passed, whisk together cornstarch and chicken stock until well combined. Slowly add slurry to the sauce, stirring constantly. Reserve for coating fried chicken.

Make the sweet tea brine. Combine 8 cups of water, sweet tea, oregano, garlic powder, 1 tablespoon thyme, 6 tablespoons salt and 2 tablespoons black pepper in a large pot to create a brine. Add the chicken pieces, cover, and refrigerate for 2 hours (for best results try brining overnight).

Remove chicken from brine and pat dry with paper towels.

Pour buttermilk in a large bowl. In a second large bowl, combine flour, cornstarch, paprika, 1 tablespoon thyme, 1 tablespoon, kosher salt, and 1 ½ teaspoons black pepper.

Dredge each piece of chicken in the flour mixture to completely coat, then shake well to remove the excess. Then dip chicken completely in the buttermilk, then dredge again in the flour mixture.

Add the vegetable oil to a 12-inch cast iron or other heavy-bottomed skillet and heat to 300°F. Carefully place half the chicken pieces into the pan. Cook chicken in oil for 15 to 20 minutes, flipping once, until the chicken is golden-brown and crispy, and the internal temperature reaches 165°F. Let the cooked chicken drain on paper towels or a wire rack set over a baking sheet. Return the oil to 300°F and repeat with the remaining pieces.

Make the rice and broccoli waffle. In small mixing bowl add egg whites and whip whites on medium-high speed. While whites are whipping, slowly add the sugar. Whip whites until meringue forms (soft peaks). While whites are working, combine remaining dry ingredients in medium mixer fitted with paddle attachment.

Slowly pour in remaining wet ingredients, reserving butter for last. When batter is smooth, carefully fold in whipped egg whites.

Add broccoli and mix into the batter.

Pour into waffle iron and cook until done.