Chef Jesse Schenker, owner of Manhattan's Flatiron restaurant The Gander, was a former culinary child prodigy. In his early teens, he whipped up this peanut butter and jelly pain perdu to cure an intense case of the munchies, and he's has been making it for two decades since. Schenker's brilliant stoner breakfast was offered at his West Village restaurant Recette up until it closed earlier this year. Bummer, we know. Luckily, you can recreate the beloved dish from Recette at home with this pain perdu.
A direct translation of "lost bread" in French, pain perdu is essentially the same thing as French toast. Here, day-old brioche is stuffed, fried, and baked, but this isn't your average stuffed French toast recipe. Schenker cuts slits into each side of the bread and then squeezes peanut butter and jam into the middle. He lightly fries the bread until golden brown, then bakes it. Wake-and-bake indulgence perfected. We dare you not to smile when the filling oozes out of this hot mess.
Note: Allow 1 hour for the bread to soak in the egg and milk mixture.
PB&J Pain Perdu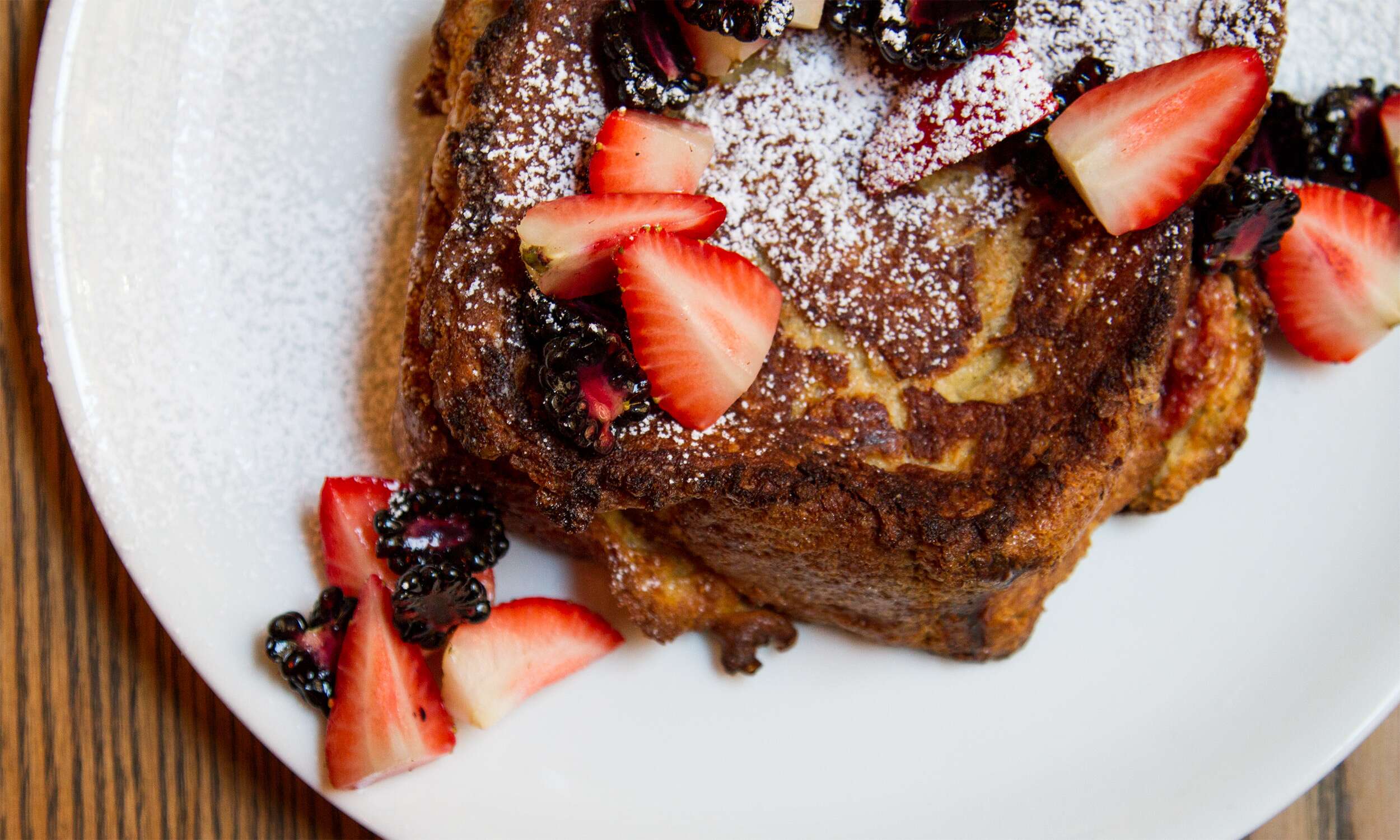 Yields: 5 to 7 servings
Cook Time: 20 minutes
Hands-On Time: 1 hour
Total Time: 1 hour 20 minutes
Ingredients
Directions
Whisk heavy cream, eggs, cinnamon, sugar, and vanilla seeds in large bowl.

Cut the brioche loaf into 6 equal slices, using the whole loaf. (Think BIG slices.)

With a paring knife, make a small incision on each side of brioche.

Place tempered lingonberry jam and peanut butter into 2 separate plastic pastry bags. Squeeze 1 to 2 teaspoons of peanut butter and jam into each incision in the bread, making sure not to overfill or break. If it breaks, don't fuss. The peanut butter should hold the bread together like glue.

Once filled, soak the bread in the egg and cream mixture for 1 hour in the refrigerator. Turn after 30 minutes to make sure bread soaks equally.

Place the grapeseed oil in a non-stick pan over medium heat, making sure to evenly coat the pan.

Place the soaked brioche into the pan. Hear that sizzle and cook until golden brown on both sides. Add a nub of butter to help golden the crusts. Repeat until all 6 slices are done.

Place 6 pieces of fried bread on a greased baking pan and place in preheated oven set at 350°F. Cook for 8 to 10 minutes to ensure custard is cooked through the bread.

On large platter, swipe lingonberry jam across the bottom of the plate for a fancy effect. If your food styling skills are not up to par, shake it off, laugh about it, and continue plating.

Place each pain perdu on a plate and cut in half, exposing the runny peanut butter and jelly. Garnish with berries, maple syrup, and powdered sugar.